I haven't forgotten about Treats Eight through Twelve, truly. With stockings to stuff and a pork tenderloin to roast, I got behind. No fear, my cupboards are re-stocked with flour, sugar, and butter, and more treats are coming over the next few days. We have to squeeze them in before we resolve to eat fewer desserts in the new year, right? Right? Nah, we'll just exercise more! (Or in my case, start exercising.)
I received a few books this Christmas that I wanted to share with you, in case you received a gift certificate that you need to spend. I've dug into each of them already, and am quite pleased.

Dorie Greenspan's Around my French Table
This is a fantastic book, and I know I'm going to be cooking from it all year. Over 300 recipes from Dorie's time in France–traditional favorites, restaurant standouts, and contemporary takes on iconic French dishes/ingredients. There are some recipes that will be wonderful for a Sunday when you have a leisurely day to spend in the kitchen, but plenty for weeknight suppers too. And each is accompanied by a delightful little anecdote.
Dorie is a skilled cook, and a skilled writer. My only complaint is that there aren't more photos of finished dishes, but with so many recipes, that would make this book the size of the LA phonebook.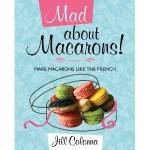 Mad About Macarons by Jill Colonna
I am enchanted by macarons, yet kind of terrified to try to make them. I'm hoping having a book devoted to the topic will help. While the writing is over-exuberant! A lot of exclamation points! I'm willing to forgive–macarons are exciting, so I'm sure the author could not help herself. This book does provide no-nonsense advice on how to create lovely little macarons (with perfect little feet), but I do need to purchase a few supplies first (a digital scale, and a new pastry tip.) Keep watching for my first macaron foray.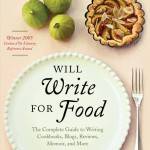 Will Write for Food, by Dianne Jacob
A great handbook on food writing, from blogs to recipes. I highly recommend it if you are interested in the genre, and if not, hopefully you'll benefit by seeing an improvement around here .
Did you get any interesting cookbooks or gadgets for the holidays? I'd love to hear about them!