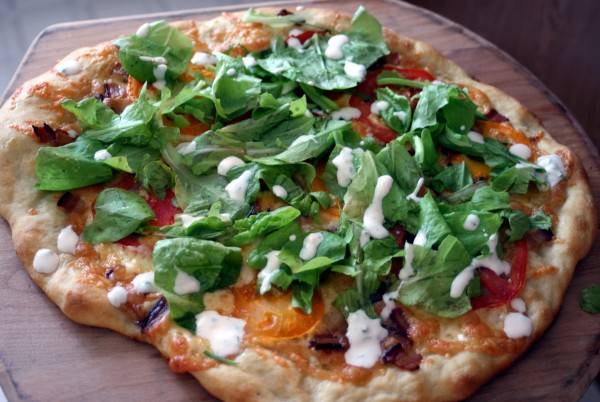 Happy Father's Day! We didn't do anything fancy for dinner – my husband is just not that kind of dad. But I did combine pizza, bacon, and ranch dressing, and he was happy (although he probably would have been just as happy without the greens.)
I also attempted a new pizza dough technique – no kneading. It is supposed to yield a more tender crust, and I think it was successful, not to mention a cinch to put together. My children were in super-needy mode yesterday, so it was nice to have a pizza dough that didn't need much.
Bacon, Lettuce, and Tomato Pizza
1 cup warm water
2 1/2 tsp active dry yeast (or one envelope)
1 tsp sugar
a generous glug of olive oil, plus more for bowl
3 cups bread flour
1 tsp salt
about 3 good handfuls of mozzarella cheese
2 small tomatoes, very thinly sliced (one red and one yellow if you're going for looks)
8 slices bacon, chopped and cooked
about 2 good handfuls of baby lettuce
1/4 cup ranch dressing
1) Dissolve yeast and sugar in 1 cup warm water, let sit for a few minutes until foamy. Add olive oil (about a 4-5 second pour).
2) Combine flour and salt in bowl. Add yeast mixture, and stir with a wooden spoon until mixed. Finish mixing with your hands until all ingredients are mixed, but don't do any serious kneading. This should take you no more than a minute or two. Dough should be tacky, but not super-sticky (it's easier if you put a little olive oil on your hands.)
3) Coat a bowl and your dough ball with olive oil, and let rise, covered, in a warm draft-free place for at least an hour.
4) Preheat your oven to 500 degrees. If using a pizza stone, let this preheat with the oven, ideally for 20-30 minutes. Again, coat your hands in olive oil, and spread a little on a piece of parchment paper. Stretch out dough to desired thinness. Move parchment paper and dough onto pizza peel or inverted cookie sheet.
5) Spread out cheese, add tomatoes, and sprinkle bacon bits on dough. Bake on stone or cookie sheet for 10-12 minutes.
6) Remove from oven and add lettuce, and drizzle with ranch dressing.
Ranch Dressing (if you're feeling ambitious, and have some fresh herbs laying around)
1 cup greek yogurt
1 shallot, grated
juice from 1/2 lemon
1/2 cup fresh herbs, chopped (I typically use mostly chives, with dill, basil, and a tiny bit of oregano)
buttermilk, amount needed to thin to desired consistency
hot sauce or sriracha, to taste
salt and pepper to taste
Whisk yogurt, shallot, lemon juice, and herbs together. Whisk in buttermilk until you reach a consistency you like for dressing. Add hotsauce and salt and pepper until it tastes good to you. This will keep for about a week in the fridge.
Enjoy pizza with a happy dad and some beer.