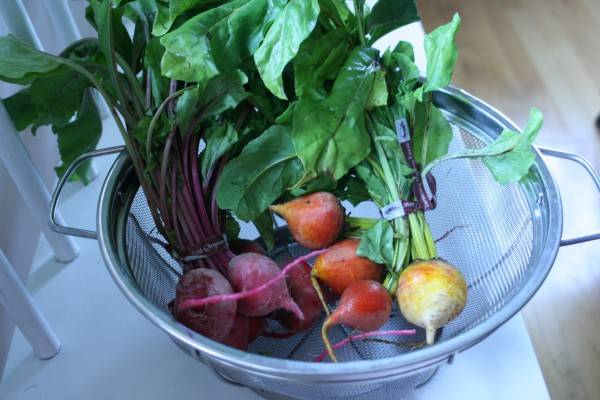 The debate of nature vs. nurture will probably always rage – but when you see characteristics of yourself popping up in a two-year-old, you have to assume genes pass on strong and very detailed traits. My oldest son has inherited my palate – he loves fruits and veggies, will try most foods without hesitation, and will not turn down a baked good under any circumstance. He also seems to have inherited my food fixation.
Does this happen to other people? You see, hear, or read about a certain ingredient, dish or food, and you just have to have it? I've spent days thinking about peanut butter chocolate chunk pretzel cookies (yes, these are amazing, and yes, I will give you the recipe someday), wheatberries, or a fennel gratin. I think about them until I eat them, and then the obsession stops (for at least a little while.)
I discovered the other day that my son shares this…problem? We read a book that had a variety of vegetables in it, and he became fixated on beets. "Beets? Eat beets right now? Want beets!" This went on for days, no joke. I'd think it was over, then all of a sudden, he'd be talking about beets again. While I don't give into every whim my children have, this seemed like one I should act on. I hustled to the farmer's market that weekend, and procured us some golden and chiogga beets. (If you've only had standard red beets, these are a real treat – the golden beets don't bleed all over everything, and the chiogga beets are actually striped when you slice them!)
I wanted to cook them quickly, so I used a preparation method from Deborah Madison's Vegetarian Cooking for Everyone for five minute beets. Peeling them took a few minutes, but then I used the food processor to quickly shred them, and everything was a snap from there. Pairing the earthy beets with nutty whole-grain pasta seemed right, and soft goat cheese and fresh herbs finished the dish. My son was happy, until we got the book Curious George Makes Pancakes from the library – guess what we had for dinner that night?
Beets and Whole Wheat Linguine
12 small to medium beets, peeled and shredded
1 T butter
1/2 cup water
juice from 1/2 lemon
10 oz whole wheat linguine, cooked al dente
2 additional tablespoons butter
1/4 cup chopped chives and parsley
salt to taste
1 cup crumbled goat cheese
1) Remove beet greens (save and use any way you'd use spinach), peel raw beets, and coarsely shred. Using the shredding disk on a food processor is an easy way to go. My little one helped with the preparation, and enjoyed nibbling the raw beet shreds.
2) Saute beets in 1 T butter until beginning to soften. Toss with a little salt. Add 1/2 cup water, cover and cook until soft,  about five minutes. Remove lid, and continue cooking until water has evaporated. Toss with juice from 1/2 lemon.
3) Cook pasta until al dente, reserve a little of the cooking water. Toss pasta with beets, 2 T butter, and chopped herbs. Add a little cooking water if pasta is too dry. Serve warm, topped with crumbled goat cheese. If you like greens, adding some of the sauteed beet greens to the dish would also be good.