I recently told my mom t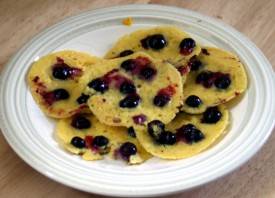 hat one of my favorite dinners growing up was when we'd have 'breakfast for dinner.' Typically, it was warm scrambled eggs with cheddar cheese, pancakes, or waffles. The novelty of it, and the fact that syrup was involved, made it delightful. My mom laughed, because she made this meal at the end of the month, when there wasn't much money left to grocery shop.
It just goes to show you, kids are often oblivious to budget issues, especially when it comes to food. Because of my fond childhood memories, we frequently have breakfast for dinner. It's fun, simple,  as an adult, I can attest that it is friendly on the wallet. I served these blueberry johnnycakes (cornmeal pancakes) with a fruit smoothie and some bacon brushed with maple syrup.
Blueberry Johnnycakes
makes 18-25 small pancakes
1/2 cup plus 2 T cornmeal
1/3 cup flour
4 tsp baking powder
1 T brown sugar
pinch salt
2 eggs
1/2 tsp vanilla
1 1/3 cups milk
2 T butter, melted
1 1/2  cups fresh blueberries
1) Whisk cornmeal through salt in bowl. In separate bowl, whisk eggs, vanilla, and milk together. Add wet ingredients to dry, and stir until just combined. Add melted butter, and stir until incorporated.
2) Heat skillet until a drop of water sizzles on the surface. Grease with a little butter, or bacon grease if feeling extra decadent. Drop small amounts of batter (about 1/8 cup), and cook for about 15 seconds. Sprinkle a few blueberries and lightly press in with spatula. Flip after a minute or two (first side should just be beginning to brown on edges.) Cook second side for 1-2 minutes, until brown on edges.
3) Serve warm with maple syrup.