OK, I've officially shaken all of the blueberries out of my pockets – the bushes are empty, the freezer is full, and I promise not to give you another blueberry recipe for…well, awhile. But, I've saved the best for last.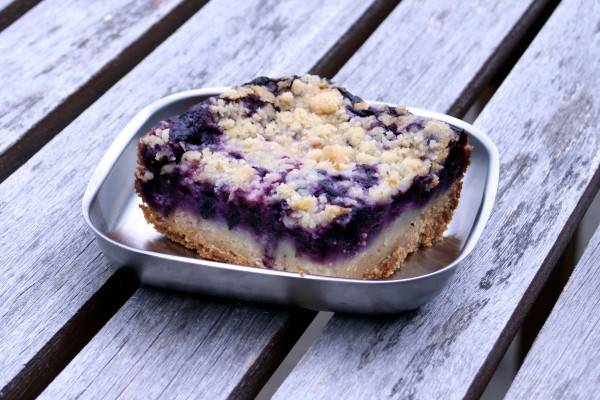 Blueberry Pie Bars. This dessert takes a mega-portion of blueberries, so you may want to find a friend or farmer with bushes, or head to Costco. If you're trying to get your six cups with the tiny 1/2 pint containers from the grocery store, this will be a pricey dessert. But do your best to find them, because this dish is splendid.
It really is blueberry pie in bar form, with a thick layer of blueberries, swimming in a delightful almond custard. All sandwiched between a sweet, crumbly pie crust. This may be my new favorite summer dessert (at least until I get my hands on some sour cherries)  and it will make you the God/Goddess of any potluck you attend.
Blueberry Pie Bars adapted from Joy the Baker, who got the original recipe from the Pastry Queen cookbook
crust and topping
3 cups flour
1 1/2 cups sugar
1/2 tsp salt
2 1/2 sticks cold unsalted butter, diced
zest from two lemons
blueberry filling
4 eggs
2 cups sugar
1 cup sour cream
1/2 tsp almond extract
3/4 cups flour
pinch salt
6 cups blueberries
1) Crust and topping: Preheat oven to 350 degrees. Grease a 9×13 inch baking pan. Pour sugar onto a large cutting board, and rub the lemon zest into the sugar with a spoon or bench scraper.
2) Whisk together lemon sugar, flour, and salt. Cut in cold diced butter with pastry cutter or two forks until it looks like coarse meal. I typically finish by rubbing the butter in with my fingers – its messy, but faster.
3) Set aside 1 1/2 cups crust mixture for topping. Press the rest into the bottom of prepared pan. Bake for 15 minutes until golden brown. Let cool while you prepare the filling.
4) Filling: Whisk the eggs, then add sugar, sour cream, almond extract, flour and salt. Gently fold in blueberries. Pour over cooked crust. Sprinkle the remaining 1 1/2 cups of crust mixture over the top, and bake for about an hour until top is golden brown. Cool before slicing.