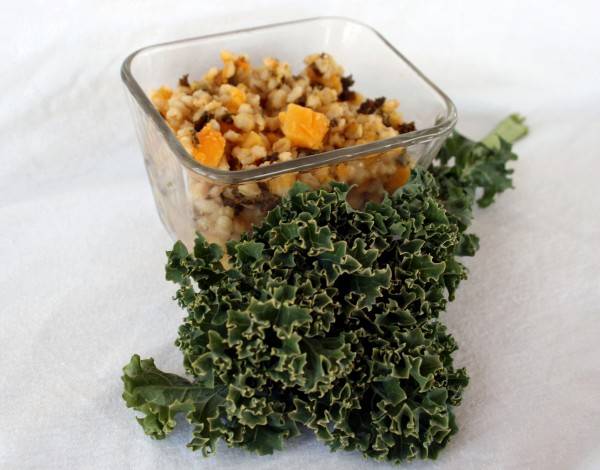 This was one of those dinners that started out as something to fill our bellies, and ended up as something truly delicious.
Despite the glaring absence of pulled pork, I had to steal this tiny portion away from my husband in order to preserve something to photograph. It really was that good! Kid and husband approved. Everything is available at your grocery store and winter farmer's market right now, and besides a little wrestling with the butternut squash to get it peeled and diced, it comes together quickly.
Butternut Squash, Kale, and Barley Risotto
2 T vegetable oil
2 cloves garlic, minced
1 tsp fresh thyme leaves (or 1/2 tsp dried)
1 cup hulled barley
salt and pepper to taste
1/2 cup white wine or apple juice
1 medium butternut squash, peeled and diced
3 cups broth
1 bunch kale (curly or Tuscan), washed and cut into strips
grated parmesan for serving (optional)
Preheat oven to 400 degrees while you add oil to a warm Dutch oven or large oven-proof pot with a lid. Add garlic and thyme, and cook until fragrant (about a minute). Add barley and stir with oil until coated, add salt and pepper. Add wine or juice and cook, stirring until mostly absorbed. Add squash and broth. Bring to a boil, stir in kale, and cover with lid. Bake in oven until barley is tender and the liquid is mostly absorbed, about 30 minutes.
Serve warm, garnished with some grated parmesan.