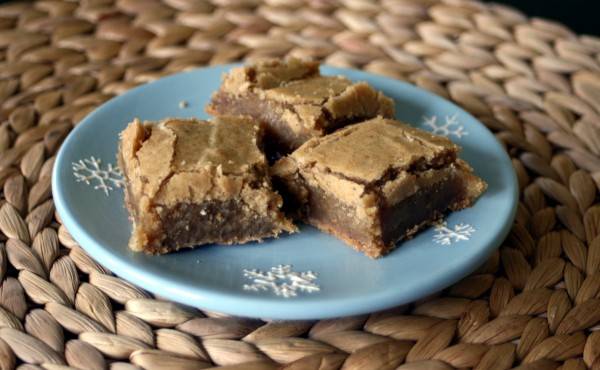 This may be shocking, but I will always pass on chocolate if caramel is available. Chocolate is delicious, but something buttery, brown sugary, and chewy is my preference.
You can see how chewy and scrumptious these are from the picture above. They have a lot of butter, but I can sneak one from the pan in the kitchen without having to get out a napkin afterwards to wipe the shine off my fingers.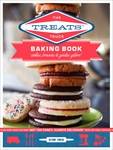 This recipe is adapted from Kim Ima's new cookbook, The Treats Truck Baking Book. I remember reading about The Treats Truck years ago, just as the upscale 'food truck' trend was beginning. Her motto is 'not too fancy, always delicious', and the recipes in the book fits this adage perfectly.
You will find all of your everyday treats, from chocolate chip cookies to cupcakes. The recipes are simple, classic, and have lots of casual suggestions for mix-and-match adaptations to fit your taste.
There is also a chapter for treats that are just a bit fancy, including fun fare like cupcake cones and dessert nachos.  The book is small, with minimal photos, but the graphics are bright, making this a great stocking stuffer for someone looking for some solid recipes for baking classics.
The book's original recipe is for Pecan Butterscotch Bars, but since we have a tree nut allergy at our house, we forwent the pecans. I also doubled the recipe, and chose to brown the butter when melting it. Since I doubled the recipe, I slightly reduced the amount of baking powder and vanilla.
Butterscotch Bars, adapted from The Treats Truck Baking Book
1 1/2 cups unsalted butter (3 sticks)
4 cups brown sugar
4 eggs
3 tsp pure vanilla extract
3 cups flour
2 tsp salt
3 tsp baking powder
Preheat oven to 350 degrees and grease a 9×13 baking pan. In a saucepan, melt butter over medium heat. If you want, continue cooking the butter, stirring frequently, until butter has golden brown flecks and has a nutty fragrance. Remove from heat, and stir in brown sugar until smooth. Add eggs and vanilla, stir until combined.
In a separate bowl, add flour, salt, and baking powder. Whisk until combined. Add butter and sugar to flour mixture, and stir until flour streaks are incorporated. (If you want to add nuts, mix 1 cup of nuts into the batter, and then sprinkle another cup over the top in the pan.)
Pour into pan, and smooth top. Bake for 25-30 minutes. Bars may appear underdone, but a cake tester or toothpick should come out almost clean. Slightly underdone bars make for the chewy deliciousness you see above!
If you dive in while these are hot, the bars will be as mushy as pudding, but just as heavenly. As they cool, they firm up and will stay good for several days in an airtight container (if you aren't home a lot — if you are, there is no way they will last several days.)
Note: HarperCollins provided me a review copy of the book free of charge, but the opinions and text are my own.