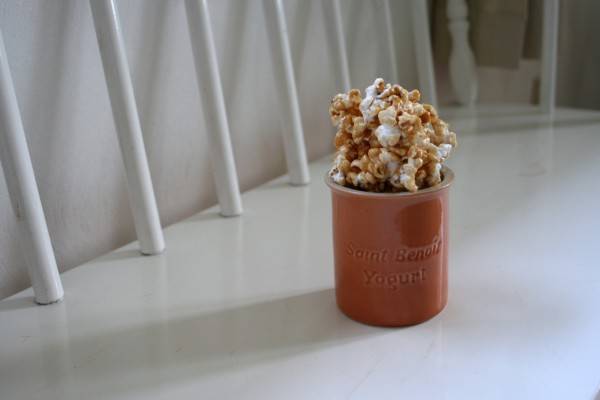 Fran, this one's for you.
If you are craving something really sweet, really chewy, and really good, I urge you to go and make this immediately. Don't be intimidated by the candy thermometer–it's really easy, and super-fast. You will be satisfying your sweet tooth and promoting rapid weight gain in minutes.
I found this recipe at the fabulous La Fuji Mama site. Check it out, if you haven't already. I cut it in half, and substituted honey for corn syrup, (this is what I had). It was good, but the honey taste  overpowered the caramel a bit. So if you want a purer, more old-fashioned caramel taste, use corn syrup instead of honey. Maple syrup would be interesting too (if you try it, let me know.)
This caramel corn is soft and chewy, instead of  crunchy. That's the way I like it. If you want a crisper corn, here's another fantastic recipe from Orangette. (Although I've made this before and just not baked it to retain the soft gooey texture I like so much.)
Condensed Milk Ice Cream, adapted from recipe at La Fuji Mama
12 cups of popcorn, popped (about 2 bags of microwave kind, or 1/2 cup unpopped kernels popped in my whirly-pop)
1 cup brown sugar
1 stick unsalted butter
1/2 cup honey
1/2 14.5 oz can of sweetened condensed milk
1/2 tsp pure vanilla extract
1) Stir brown sugar, butter, and honey in heavy saucepan over medium-high heat, bring to a boil. Add condensed milk, and lower heat to medium-low (or low if starting to burn.)
2) Add a candy thermometer, and cook until mixture reaches 235 degrees (soft ball stage), stirring frequently.
3) Remove from heat, and add vanilla. Quickly pour over popcorn in large bowl, and stir until coated.
Just try to not burn yourself as you immediately begin eating it. And whatever you do with the remaining half-can of sweetened condensed milk is your business.