While I still have very ambitious garden plans, I'm getting a late start. Having a baby with a two year old already on the scene will do that to you. I did just put in no less than a million tomato plants, and quite a few peppers. Come August, if you need tomatoes for slicing, canning, or salads, I'm your woman. I have 4 kinds of cherry tomatoes, three big slicers, and 4 medium sized early reds. I have red bell peppers, orange bell peppers, mini bell peppers, jalapenos and cayennes. I still have to plant my squash, bush beans, and melons – hopefully in the next day or two. I told myself I couldn't go strawberry picking until I planted my seeds – and strawberry season is short! (Stay tuned, I have big strawberry plans!)
But for now, the star is the salad greens – just look at this gorgeous bowl of lettuce! This is courtesy of my more than kind neighbors, John and Hilary. I have an open invitation to pick all that I want – although they may rescind once they discover how much salad I can eat.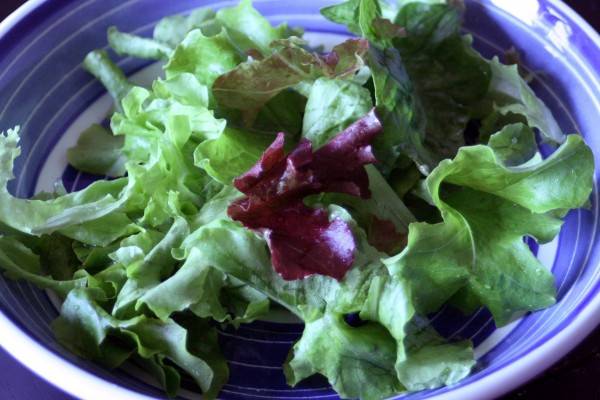 This dressing is from my new favorite cookbook, Cook's Country America's Best Lost Recipes. It has 121 recipes submitted from readers, and has some great old fashioned forgotten fare. I plan on featuring several recipes (as many as I can make until the library demands back the book, or I cave in and purchase it.) Here's a teaser: World War II Chocolate Mayonnaise Cake — it's amazing what women came up with when faced with butter and egg rations.
Back to the lettuce!
Celery Seed Dressing
1/4 cup sugar
1/2 tsp dry mustard
1/2 tsp salt
1/2 tsp celery seed
2 T grated yellow onion
2 1/2 T white vinegar
1/2 cup canola oil
I doubled the recipe in order to have dressing for a few days. I put all ingredients into a glass jar, and shook well. Let sit for at least an hour, it gets better as the flavors marry. This is a sweet and sour dressing, great for plain salads, or those that contain fruit, like a strawberry spinach salad.
Pick your greens or get them from a farmer's market. For this dressing, I recommend a romaine or butter lettuce – something soft and not too bitter. Wash them very, very well, and spin dry. Sprinkle them with a little kosher salt and then dress, tossing to coat.