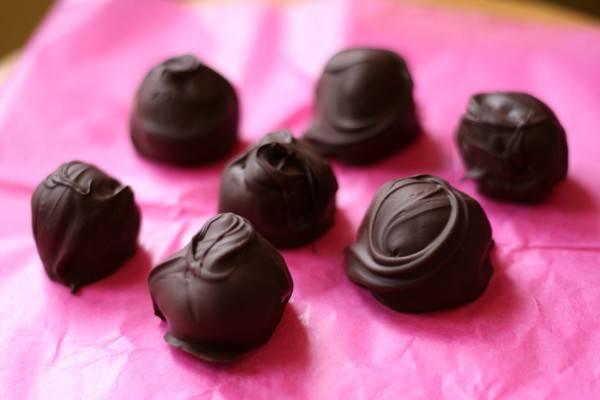 Here's a last minute Valentine's treat that is fast and simple. Unsweetened coconut is drenched in honey and then covered in dark chocolate. They're pretty and bite-sized, perfect packaged as a gift or accompanying ice cream as dessert.
These were devised for a pregnant coconut-loving friend. I don't know if there's any correlation, but I gave them to her a day past her due date with no signs of labor, and her water broke the next evening. You never know, the power of a good treat can be great!
Chocolate Coconut Honey Truffles
makes 16 one inch truffles
1 cup unsweetened, shredded coconut
2 tablespoon coconut oil, melted
1/2 cup honey
1 1/2 cups dark chocolate chips
Put coconut in a large bowl. Gently heat the coconut oil until liquid. Add to the coconut and immediately stir to incorporate. Stir in honey.
Roll coconut into 1 inch balls, and chill for about 30 minutes.
When ready to coat the truffles, melt the chocolate over a double-boiler, or in a microwave-proof bowl in 30 second increments, stirring each time until chocolate is smooth.
Using a fork, drop the coconut balls into the chocolate and cover. Gently lift out and place on a rack or piece of parchment. Let chocolate harden and enjoy.