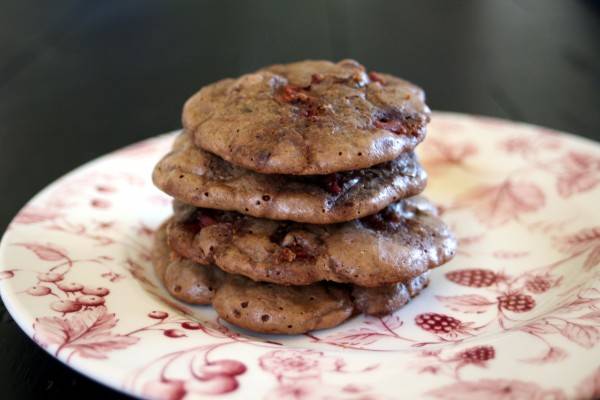 I'm pretty excited about these cookies – I hope you are too! Rhubarb in a chocolate cookie may sound a wee bit strange, but just think how good chocolate and tart cherries are. Since we are months away from tart cherries coming into season, I figured rhubarb would be an excellent substitute.
My only concern was whether the rhubarb would get cooked through during the baking time. To ensure that it would be soft (and not fibrous) I peeled my rhubarb stalks, and diced them small (about a 1/4 inch.)
The brownie-like cookies, studded with bits of sour rhubarb, went over big at this house – I hope you make them soon! Best enjoyed slightly warm, with a cold glass of milk.
Chocolate Rhubarb Cookies
8 oz semi-sweet chocolate chips
3 T unsalted butter
1 cup sugar
3 eggs
1/2 tsp almond extract
1 cup flour
1/4 tsp baking powder
1/4 tsp salt
1 cup semi-sweet chocolate chips
1 cup rhubarb, peeled and diced small
1) Melt butter and 8 oz chocolate chips over low heat in heavy sauce pan, or in a double boiler. Stir until smooth. Let cool.
2) Whisk together sugar and eggs, and stir in cooled chocolate, flour, baking powder and salt. Stir in chocolate chips and rhubarb.
3) Chill in fridge for about an hour.
4) Preheat oven to 325 degrees. Drop by rounded tablespoon onto greased or lined baking sheet. Bake for 12-15 minutes, until cookies just begin to crack. (Like brownies, you don't want to overbake these.)
5) Cool for a few minutes, then transfer to cooking rack.