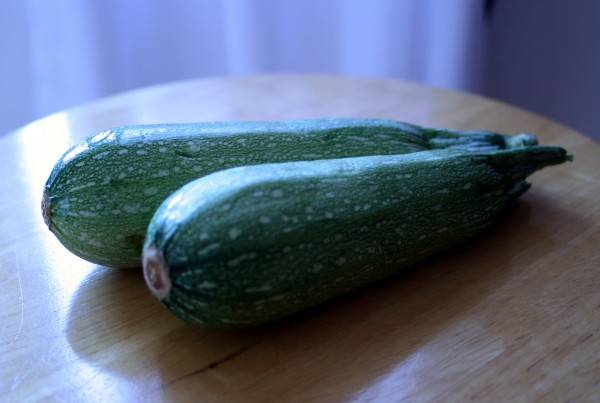 Sorry for the radio silence. I was out of town for a few days, then everyone in the house had a cold, and now I'm adjusting to going back to work part-time. Things are finally settling down–kind of.
It's been a struggle to get organized food-wise with this new work schedule. I'm trying to get better about planning meals ahead, and I'm still attempting to empty my pantry and freezer (check my progress here.)
I'm still baking treats for my family. My toddler is very into taking afternoon tea right now. It's super-adorable. So far he's tried green, chamomile, and hibiscus tea, all drunk from a little white teacup and saucer. I made some quick bread to go with his tea.
I did not use fresh zucchini for this bread, but dipped into my freezer stash. I did not drain or squeeze the liquid from the zucchini, so don't feel like you need to do this, whether you use fresh or frozen.
This is lightly sweet and wholesome, and gets most of its chocolate flavor from unsweetened cocoa. Feel free to play with the add-ins, but we liked the chocolate chips and finely chopped walnuts.
Chocolate Walnut Zucchini Bread
1/2 cup unsalted butter, softened (1 stick)
1 cup brown sugar
2 eggs
1 tsp vanilla
1 cup shredded zucchini
1 1/2 cups whole wheat flour
1/2 tsp baking soda
1 tsp baking powder
1 tsp cinnamon
1/2 tsp salt
2 T unsweetened cocoa
1/2 cup finely chopped walnuts
1/2 cup semi-sweet chocolate chips
1) Beat sugar and butter until well-combined. Add in eggs and vanilla, mixing well after each addition. Stir in zucchini.
2) In separate bowl, whisk together flour, baking soda, baking powder, cinnamon, salt, and cocoa.
3) Add dry ingredients to wet, and mix until just combined. Stir in walnuts and chocolate chips.
4) Preheat oven to 350 degrees. Grease a standard 9 inch loaf pan. Scrape batter into pan, and bake for approximately 45 minutes, until bread is risen and a cake tester or knife inserted in the middle comes out clean.