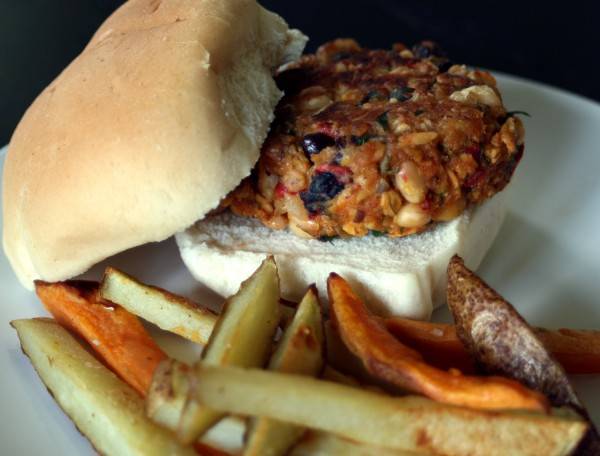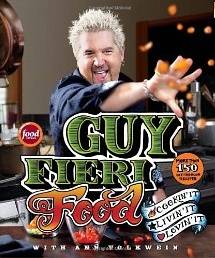 I was recently contacted to review Guy Fieri's newest book, Guy Fieri Food: Cookin' it, Livin'it, Lovin'it.
Now the only thing I know about Guy Fieri is that he has crazy blond spiky hair and I've seen him on commercials for TGIFriday's and for a gameshow on network TV. Knowing only these things, I was a little reluctant to review the cookbook, HOWEVER, I was excited to be asked and would love to review more, so I didn't want to come off as a snoot.
Fair readers, if you don't know anymore about Guy Fieri than I did, let me save you the trip to Wikipedia: he has opened two restaurants in California (Johnny Garlic's and Tex Wasabi's),he won Food Network's The Next Network's Star in 2006, and since then has had several shows on that network, and a few books published about diners and dives. This is his first cookbook.
As I perused the book, I started wondering about you, Reader. I really don't know that much about you, and you know a fair amount about me. Now some of you are my family and friends, but I'm talking about the rest of you. In my mind, I imagine some of you to be a bit like me: a mom with young kids, doing her best to pull together some yummy and nourishing eats everyday despite the fact that by 8 am your dog has rolled in fox urine and someone has dumped your entire bottle of oregano onto the floor. I might imagine you'd rather win a copy of Heidi Swanson's Super Natural Every Day than Guy Fieri's book. But truth be told, I have no idea which book you'd prefer. Who am I to project my cookbook snobbery on you? (Plus, no one offered me a copy of Heidi's book.)
All that said, this cookbook surprised me. While heavy on meat (e.g. Festivus Maximus Prime Rib) and cheesy dishes (both literally and figuratively–see Irish Nachos, p. 55), Guy shows a strong commitment to organic, scratch cooking and has a strong chapter on vegetables.  He includes recipes for homemade ketchup, teriyaki sauce, chili sauce and various spice rubs. His veggie chapter walks through a variety of different vegetables, including a description of the best way to prepare them and when they are freshest and cheapest.  He even includes the red-headed stepchild of the veggie world, celery root.
This book contains lots of flashy artwork and a year's allowance of puns and downhome colloquialisms, but it doesn't skimp on the photos and while there are many recipes I would never cook (Guy-talian Nachos), there are a surprising number I would. I think this book would be a great transition cookbook for someone who typically cooks like the sous-chef at Applebee's, but would like to step up their game.
The recipes aren't necessarily easy, and many of them have A LOT of ingredients, but it is obvious that Guy is committed to flavor and technique, and that a lot of effort was poured into this book.
I know, I know, definitely a mixed review. Bottom line, the right cook will LOVE this cookbook, and most anyone will find more than a handful of recipes they'd like to try. And I'm giving one away (domestic US addresses only). Leave a comment telling me your all-time favorite chef by Wednesday, June 15th. I'll randomly select a winner on Thursday.
I tried Guy's veggie burger, and it's a good one. The spices and veggies can be varied, but the base of beans and oatmeal provides a veggie burger with nice structure, flavor, and chew. I'll definitely be adding some rendition of this burger to my regular repertoire. I made some substitutions based on what I had on hand, but I've recorded the ingredient list from the cookbook. The only major change I made was that I lightly mashed the beans – I just didn't have the confidence that the burgers would hold together if I didn't. I also diced all of the veggies very small and doubled the recipe (if I was mixing these many ingredients together, we were going to have leftovers.)
Morgan's Veggie Patties from Guy Fieri Food
4 T olive oil (half to cook the veggies, half to cook the finished burgers)
3 T diced red onion
2 T diced pitted black olives (I was out of olives, and subbed in capers. I'd stick with the olives if I were you.)
2 T diced red bell pepper (I only had jarred roasted, which added nice flavor)
1 tsp diced jalepeno (I diced the whole chile and added it, sans seeds and ribs)
1 1/2 tsp diced garlic (I put in 2 large cloves)
1 T diced jarred artichoke hearts (I had them on hand, but couldn't get the jar open, can you believe it? Ridiculous! I need a house boy.)
1/2 cup drained cooked black beans
1/2 cup drained cooked chickpeas
1/2 cup drained cooked white beans
3/4 cup rolled oats
1/2 tsp sweet paprika
1 tsp dried oregano
1/2 tsp chili powder (I used ground chiles)
1 T minced flat leaf parsley
1/2 tsp red chili flakes (is this the same as crushed red pepper? That's what I used)
1/2 tsp ground cumin
1/2 tsp celery salt
1/4 tsp ground sage
2 T seasoned bread crumbs (I only had plain)
1 egg
1) Heat 2 T olive oil, and cook onion, olives, red pepper, jalepeno, garlic, and artichokes until soft, about 10 minutes. Put in a large mixing bowl.
2) Add in the cooked beans, and mash lightly. Add oats, all the spices and herbs, bread crumbs, and egg. Stir well, form into four patties, and refrigerate for at least 30 minutes.
3) Heat the remaining 2 T olive oil in a large non-stick skillet. Cook patties for 3-4 minutes per side until browned. Serve on buns with condiments of choice. (Guy recommends a cilantro mayonnaise.)
Remember, US residents leave a comment telling me your favorite chef by Wednesday June 15th, and you may win a copy of Guy Fieri Food. Thanks for playing!
While I was provided a free copy of this cookbook, my review was not compensated and my opinions are my own.