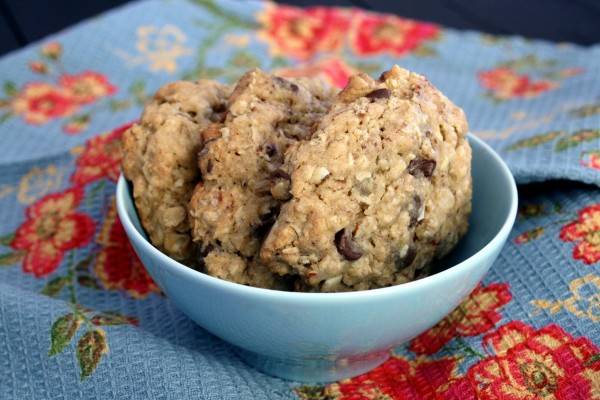 I couldn't bring myself to bake for a few days after the lively parade of holiday treats, both created by myself and dropped off by neighbors. I simply paced around the kitchen, nibbling carrot sticks and drinking green smoothies.
But before I knew it, a few sticks of butter had crept out of the fridge and landed on the counter. I had leftover coconut from another creation, so you get Cowboy Cookies for Treat Number Eight! My husband argued that these are actually called 'Ranger Cookies' (must be a regional thing?) However, since my husband is a park ranger, I think I'm going to create something extra-special to call a Ranger Cookie.
Cowboy Cookies
1 1/2 cups brown sugar
1 1/4 cup butter, softened (2 1/2 sticks)
2 eggs
2 tsp vanilla
1 cup shredded sweetened coconut
2 1/2 cups flour
3 cups oatmeal
1 tsp baking powder
1/2 tsp baking soda
1 1/2 tsp kosher salt
1 tsp cinnamon
1 cup sliced almonds
2 cups semi-sweet chocolate chips
1) Cream brown sugar and butter together until very light and fluffy (beat on high for several minutes.) Add eggs and vanilla, beating well after each addition. Stir in coconut.
2) In separate bowl, whisk flour, oatmeal, baking powder, baking soda, salt, and cinnamon.
3)  Add flour mixture to butter and sugar, mixing until just combined. Fold in almonds and chocolate chips.
4) Preheat oven to 350 degrees. Drop dough onto ungreased cookie sheet. Bake until golden brown on bottom and just cooked on top. These cookies do not spread much, so it's best to flatten them if you don't want little oatmeal mounds.
For smaller cookies, cook 10-12 minutes. For larger cookies, cook 15-17 minutes. Cooking time will depend on your oven and  cookie size.
Note: Although you can bake these cookies right away, I found that aging the dough for a night in the fridge produced a more flavorful cookie. Bring dough to room temperature before baking for easier scooping.