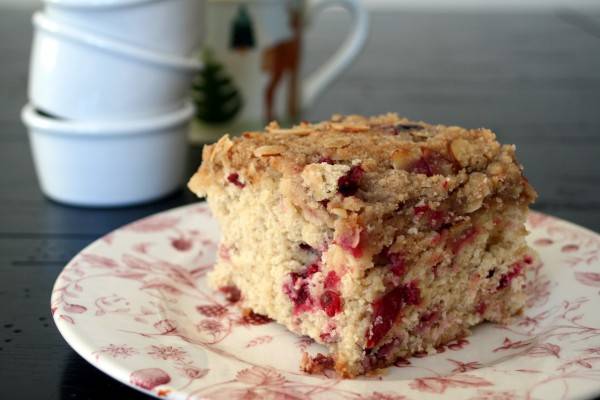 The milking maids are exhausted, the leaping lords have shin splints, and the partridge has flown the pear tree. Christmas is almost here!
My apologies for the total lack of cookie posts! I had grand visions, but some 2012 writing projects (stay tuned) have taken precedence. But the butter is softening on the counter right now, and I still hope to crank out a few batches this week.
In the meantime, if you are having a crowd on Christmas morning, this coffee cake makes enough to feed them, and makes the most of a local favorite here–the cranberry. This cake has a sweet crumble top and lots of almond flavor that is balanced by tangy bursts of fresh cranberries. It's a great excuse to eat cake for breakfast—that is, if you need an excuse.
You can make this the day ahead, but if you wait and bake it the morning of, the aroma of baking cake is a nice backdrop when emptying your stocking.
Cranberry Almond Coffee Cake
For the cake
1 cup unsalted butter, softened
1 ½ cups sugar
½ cup brown sugar, packed
2 large eggs
1 tsp pure almond extract
1 tsp pure vanilla extract
4 cups all-purpose flour
4 tsp baking powder
2 tsp salt
1 cup milk
1 ½ cups raw cranberries (fresh or frozen), roughly chopped
For the topping
½ cup sugar
½ cup brown sugar
2/3 cup all-purpose flour
½ tsp cinnamon
¼ tsp salt
½ cup cold unsalted butter, diced
½ cup sliced almonds
½ cup whole cranberries
For the cake:
Preheat oven to 350 degrees, and butter a 9×13 baking dish. With a stand or hand-mixer, cream butter and sugars for several minutes until very light and fluffy. Add eggs and extracts and mix until well-combined.
In a separate bowl, whisk together flour, baking powder, and salt. Add half of flour to butter and sugar and mix until just combined, then add half the milk and mix until combined. Repeat with the remaining flour, and the remaining milk.
Fold in 1 ½ cups roughly chopped cranberries. Scrape batter into baking dish and smooth the top.
For the topping:
Whisk together the sugars, flour, cinnamon and salt. Cut in cold butter pieces with a pastry cutter, two knives or your fingers until mixture resembles crumbly sand.
Stir in almonds and ½ cup whole cranberries. Sprinkle evenly over cake batter—you may need to redistribute the cranberries so they aren't bunched together.
Bake cake at 350 degrees for 55-75 minutes until golden-brown and a toothpick inserted in the center comes out clean.