We had a week of lovely spring weather–just enough to coax the rhubarb and crocuses out of their earthy beds. Now we're back to thirty degree days and long underwear. Time for one last velvety, comforting, pureed soup. If your household is on the fence about cauliflower, give this a try. It highlights the veggie's finer qualities–sweet, smooth, and nutty. And you don't have to use a lick of cream to get a dreamy creamy soup.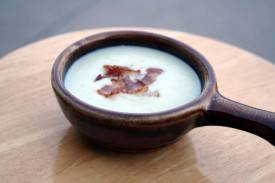 We enjoyed this one with a little crumbled bacon, but toasted walnuts or parmesan croutons would also be delicious crunchy accompaniments.
Creamy Cauliflower Soup
2 T olive oil
1T butter
2 medium onions, chopped
2 stalks celery, chopped
1 leek, washed well and chopped
3 cloves garlic, minced
1 tsp dried thyme
1/2 tsp salt, more to taste
1 head cauliflower, chopped
2 medium potatoes, peeled and chopped
8 cups vegetable or chicken broth
Optional toppings:
cooked crumbled bacon
toasted walnuts
parmesan croutons
1) Heat oil and butter in large stockpot. Add onion, celery, leek, and garlic. Cook until vegetables begin to soften. Add salt and thyme. Continue cooking until vegetables are very soft, about 15 minutes.
2) Add broth, cauliflower, potato, and perhaps some more salt (depending upon how salty your broth is). Bring to a boil, turn down to a simmer, and cook partially covered until potatoes and cauliflower can easily be pierced with a knife (about 20 minutes).
3) Whiz everything in a blender until exceptionally smooth. Enjoy with your selected toppings.