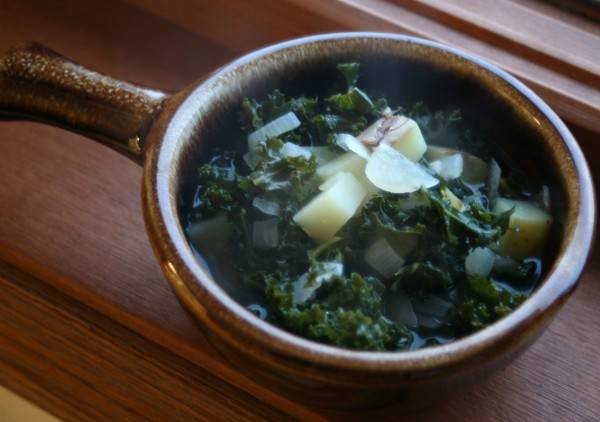 Doesn't this soup look warm and cozy? Ok, the photo may be just a bit out of focus, but I swear most of it is steam. I realize I may be alienating my new readership with two kale recipes in only twelve posts, but  I really want you and kale to get along.
This is a simple and healthy soup, perfect for when the weather is chilly and you feel like you've eaten too many cookies. It's from Alice Water's The Art of Simple Food. Coincidentally, it's great with popovers (see previous post).
Curly Kale and Potato Soup
1/4 cup olive oil
2 onions, chopped
4 cloves garlic, minced
1 lb potatoes, cubed (I used Yukon Gold)
1 bunch curly kale, washed, stems removed, roughly chopped
large pinch salt
6 cups broth
1) Heat oil in large pot. Add onions, cook until soft and beginning to brown, 10-15 minutes. Add garlic and cook for a few additional minutes.
2) Add potatoes, kale, and salt and stir for a few minutes. Add broth and bring to a boil. Reduce heat to a simmer, and cook for about 30 minutes (or until potatoes and kale are tender.) Add additional salt, if needed.
3) Serve hot, garnished with freshly grated parmesan and a drizzle of good olive oil.
If you want to add some protein, I think white beans would be a nice addition to the soup. Many of you may be able to find potatoes, onions, garlic, and kale at your winter farmer's market.