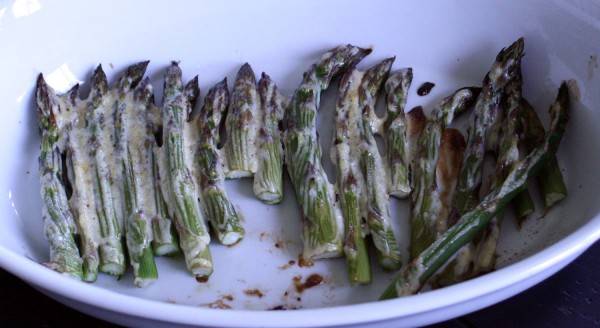 The asparagus patch is still producing at a prolific rate, and we're only getting a tiny bit tired of it. I decided to fancy up our usual simmered with butter fare with some aioli and a nice roast in the oven. It's indulgent, but delicious. You'll want to serve it with something simple, like a grilled steak.
Decadent Asparagus
1/4 cup mayo (full fat)
1 tsp dijon mustard
1 small clove garlic, crushed
juice from 1/3 lemon
salt and pepper to taste
1 lb asparagus
1) Preheat oven to 400 degrees. Snap and wash asparagus.
2) Whisk together mayo, mustard, garlic, lemon juice, salt, and pepper.
3) Lay asparagus in single layer in baking dish. Brush on aioli thickly. You will have leftover aioli — enjoy it on a ham sandwich.
4) Roast in oven for 10-15 minutes (depending upon the thickness of your stalks) until tender, but not mushy. Broil on high for 2-3 minutes to give the dish some color. Squeeze on a bit more lemon juice.