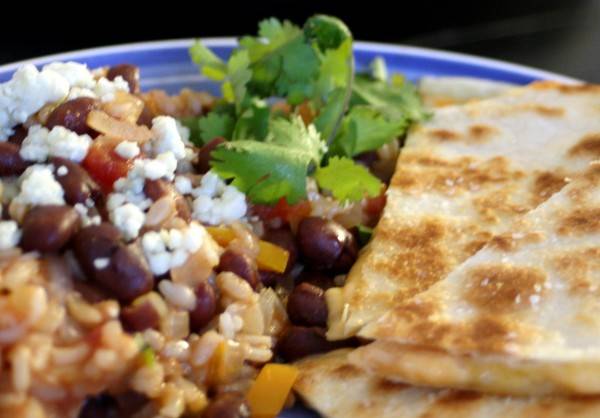 I'm sure this exact dish is probably not consumed anywhere in Spain – at least I haven't seen it featured on Spain-On the Road Again with Gwyneth, Mark, Mario, and Claudia. But it is flavorful, fast, good for you, and cheap.
Beans and rice are a popular staple around the world, a primary reason being that when eaten together, they provide a complete protein. We typically eat this as our main course, sometimes with a quesadilla on the side.
Easy Spanish Rice
some olive oil
1 chopped onion
2 cloves minced garlic
salt to taste
as much cumin as you care for
a couple dashes oregano
a pinch of cayenne pepper, if you want to heat it up
2 cups cooked brown rice (cook in broth for extra flavor)
2 cups beans of your choice (either canned – drained and rinsed, or dried – soaked and cooked.)
1 14 oz can diced tomatoes and green chili, with juice
1 cup broth
1 diced red or yellow pepper
chopped cilantro
queso fresco
1) Cook rice and prepare your beans.
2) Saute onion in olive oil until soft, add garlic, salt, cumin, oregano, and cayenne pepper. Saute a few more minutes.
3) Add rice, beans, tomatoes and chilies, and broth. Bring to a boil, and simmer for about 15 minutes to reduce the liquid and intensify the flavor.
4) Remove from heat, add diced red pepper. I like to add it at the end for the sweet crunch. If  you prefer it soft, add it in the beginning with the onions.
5) Garnish with chopped cilantro and queso fresco. If you don't have these on hand, it's still good without.
Quesadilla tip: I used to just prepare my quesadillas in a dry skillet. Toss in the tortilla, top with cheese and whatnot, add the second tortilla and flip when crispy and starting to get brown spots. But then I watched a life-changing episode of America's Test Kitchen (I love that show.) Their quesadilla tip was to lightly brush the to-be-cooked side of the tortilla with oil, and sprinkle with a bit of coarse salt. It's delicious, despite being ever so slightly more difficult and less healthy.