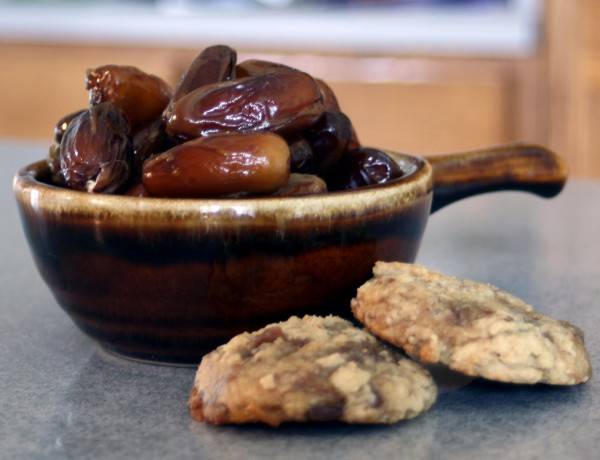 My son, Cookie Monster, and I all have something in common (along with a large percentage of the US): our favorite cookie, hands down, is a chocolate chip cookie (Best recipe ever here.)
My husband isn't a cookie fanatic, but if he had to choose, it would be a simple date cookie that is a family recipe on my side. I love this cookie too. It is a soft drop cookie, with a pleasant irregular shape, swirled with a ribbon of sweet date syrup. You can find a few plump date pieces here and there, too.
Everyone on my mom's side makes this cookie, most often for the holidays. Best as anyone remembers, the recipe came from my Great Aunt Ruthie.
Aunt Ruthie hosted us frequently for Sunday dinners, and I have a lot of fond memories. As kids we were told to ask for water, not milk with dinner. Although Aunt Ruthie frequently had expired milk in her fridge, she always had a delicous baked good to go with our tall glasses of…water. She made lots of delicious treats, and one day I hope to go through her recipe box – I know it will be filled with treasures.
As I got older, we still went for Sunday dinner, but from time to time I would bring a boyfriend. I learned that in addition to being a talented baker, Aunt Ruthie was also a shameless flirt, and even went as far as pinching one boyfriend's bottom. I miss her. I hope when I'm 70 I'm still baking up a storm and pinching 20-year-old boy bottoms.
Date Cookies
2 cups pitted, rough chopped dates
1/2 cup water
1/2 cup sugar
1 cup brown sugar
1/2 cup sugar
2 sticks butter, softened
3 eggs
1 tsp vanilla
4 cups flour
1 tsp baking soda
1/2 tsp salt
1) Over medium heat, bring dates, water, and 1/2 cups sugar to a boil. Lower heat and cook until thick, stirring frequently. Cool for several minutes.
2) Separately, cream brown sugar, 1/2 cup sugar, and butter until light and fluffy. Add eggs and vanilla, and beat until fully incorporated.
3) In separate bowl, whisk flour, baking soda, and salt together. Add flour mixture to butter mixture, and mix until combined. Fold in date syrup – you want it incorporated, but you still want to see swirls of syrup.
4) Preheat oven to 375 degrees. Drop dough by tablespoonful onto lined or greased baking sheet. Bake for 8-10 minutes. Immediately remove from sheet and place cookies on cooling rack.