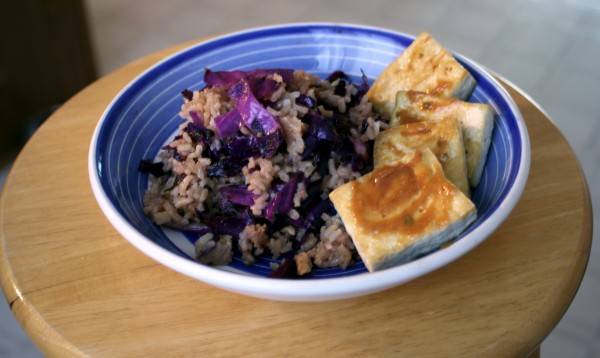 My kiddo helped me shop this past week, and he was insistent that we purchase a purple cabbage. He also shouted 'cabbage! cabbage! cabbage!' as we made our way through the produce department. This lasted until we got to the sweet potatoes, and then he changed his tune to (you guessed it) 'sweet potatoes! sweet potatoes! sweet potatoes!'.
I haven't cooked with cabbage very much – it feels like an old fashioned vegetable. And it is–in China, archaeologists have found pots containing cabbage that date back to 4000 BC. Due to its high vitamin C content, and ability to store very well (especially if pickled as kraut), cabbage is a part of many food cultures around the world. Sailors ate pickled cabbage to help prevent scurvy.
We aren't in too much danger of scurvy around here, but a little cabbage seemed like a good idea. And I wanted to do something different that your typical slaw. I prefer cabbage cooked rather than raw. Lightly cooking makes the leaves more tender, and a bit sweeter.
This recipe was inspired by Deborah Madison's 'Steamed Cabbage and Tofu' from Vegetarian Cooking for Everyone.
Fried Tofu and Cabbage with Peanut Sauce
Several cups cooked brown rice
2T vegetable oil
1 package extra firm tofu (packed in water, not silken)
1 small head purple cabbage
salt
Peanut Sauce
4 T natural peanut butter
3 T rice vinegar
juice from one lime
1/2-1 teaspoon sriracha (chili garlic hotsauce)
2 tsp soy sauce
3 T brown sugar
1 clove garlic, minced
2 T minced fresh cilantro
1) For the tofu and cabbage: cut the tofu into large squares, and lay paper towels. Press with more paper towels to remove water. Heat 2 T oil in large, non-stick skillet. When oil shimmers, add tofu and cook undisturbed until it turns golden brown. Sprinkle with salt, then flip, and cook on opposite side. Add more salt to taste. Set aside on paper towels.
2) Slice cabbage to desired length and thinness. I like mine thin, and about an inch long. Pull off a few leaves, flatten them, then slice up. There should be plenty of oil left in the pan to cook the cabbage. Sauté until cabbage is tender. Salt to taste.
3) For the peanut sauce: Whisk peanut butter, vinegar, lime juice, sriracha, soy sauce, and brown sugar until smooth. Stir in garlic and cilantro.
4) Mix cabbage with several cups of brown rice and half of the peanut sauce. I smear the tofu with a little more peanut sauce, and serve hot with rice and cabbage. Drizzle with additional sauce as needed.