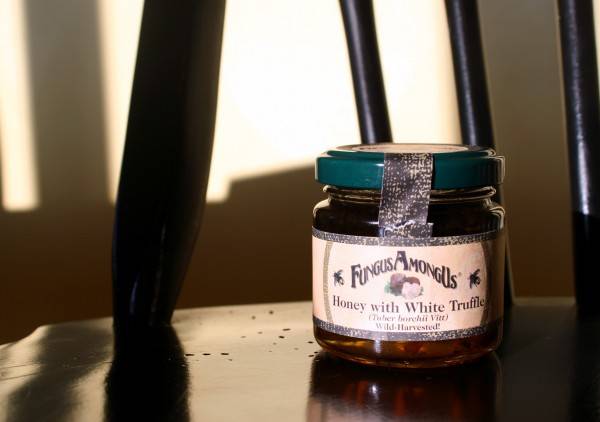 Update: The gods at random.org have smiled on Julie D.! Julie, send me your mailing address and the mushroom people will mail you your honey.
The nice people at FungusAmongUs sent me a decadent little gift: honey with white truffles. I could smell the heady aroma of truffles before I even opened the jar. Would you like some? Read on!
Truffles are the famous European fungus that sell for outrageous amounts of money, and are judiciously used at the finest restaurants. I've dabbled with truffle oil, but fantasize about one day being able to cook with some fresh truffle. The reality is though, if I ever did garner myself a truffle, I'd probably be paralyzed with indecision on how to use it.
One of my best restaurant meals of all time included truffles. I was traveling to San Francisco for work, and was staying the weekend. Prowling around after 9:00 for some dinner, I stumbled upon Boulevard. I was welcomed warmly (even in my jeans and pink sneakers), and I chose a seat at the chef station.
I enjoyed a delicious meal while watching the young chefs feverishly put together that evening's small plates. In between rushes, they kindly answered  questions. A few of the servers adopted me in my loneliness, and doted on me (including bringing me a complimentary dessert of adorable little homemade cookies.)
I tasted foie gras for the first time in a little amuse bouche that included tart cherry jam and diminuitive toasts. My appetizer was a goat cheese ravioli with shaved truffles, and my main course was wild boar. Amazing. Eating alone at a fancy restaurant is almost preferable to having company–there is nothing to distract you from enjoying every bite.
Truffles-I'll take them where I can get them, and here they are suspended in golden honey. The truffle flavor is pronounced, so a little goes a long way.Apparently my youngest has fancy taste…here he is absconding with my truffle honey.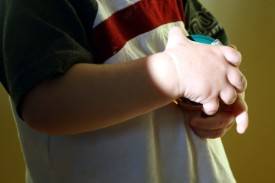 We've enjoyed this treat simply: drizzled on shaved parmesan, dripped over crostini with goat cheese, and mixed with yogurt cheese and stuffed in medjol dates. I think my next experiment will be mixing up some truffle honey mustard.
Would you like to try truffled honey? Leave a comment by Wednesday night (September 7). I'll randomly select a winner, and FungusAmongUs will send you some. Tell me how you would enjoy it. If you like their facebook page, leave a another comment telling me, and get another chance to win.
They have more truffle products, including truffle oil, salt, and mustard. FungusAmongUs also has an interesting selection of dried mushrooms that you can use in soups and sauces.
Good luck!
Giveaway and Review Policy: While I was given this product to try for free, I was not compensated for my post and my opinions are my own. I don't accept anything I wouldn't consider buying myself.