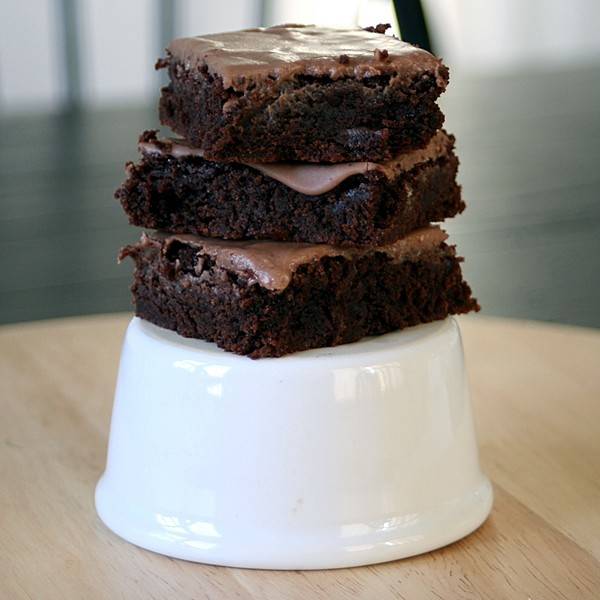 There are thousands of brownie recipes to choose from, and I'm sure at least a thousand of them are delicious. But sometimes you're not in the mood for experimentation, you just want a go-to brownie recipe that is going to be just right.
This is 'that recipe' for me. It produces a fudgey brownie, but it still maintains a light crumb. There are no fancy nuts or chocolate chunks, and just a simple icing to finish them off. This was inspired by the Barefoot Contessa's Outrageous Brownies.
Chocolate Brownies with Cocoa Almond Icing
3 sticks unsalted butter
16 oz semi-sweet chocolate chips
6 oz unsweetened chocolate
6 eggs
3 T instant coffee
2 T pure vanilla extract
2 1/4 cups sugar
1 1/4 cups flour
1 T baking powder
1 tsp salt
1) Preheat oven to 350 degrees. Melt together butter, chocolate chips, and unsweetened chocolate in heavy saucepan over low heat, or in a double-boiler. Stir until smooth. Let cool.
2) Stir together eggs, coffee, vanilla, and sugar until combined. No need to beat.
3) Add cooled chocolate mixture to egg mixture and stir until smooth.
4) Whisk flour, baking powder, and salt in separate bowl. Combine with chocolate mixture and stir until combined.
5) Line a 12x18x1 inch baking sheet with parchment paper, allowing some to overhang the edges. Pour in batter and evenly distribute. Bake for 25-35 minutes – when brownies are finished, a toothpick stuck in the middle should come out with moist crumbs.
Cocoa Almond Icing
4 T butter, melted
1/4 tsp almond extract
2 T cocoa
3 cups sifted powdered sugar
2/3 cup milk (may need to add more for desired consistency)
1) Whisk butter, extract, and cocoa together. Whisk or beat in sifted powdered sugar. Add milk slowly until desired consistency is reached. I like mine to be pourable.
2) Spread a thin layer of icing over cooled brownies.