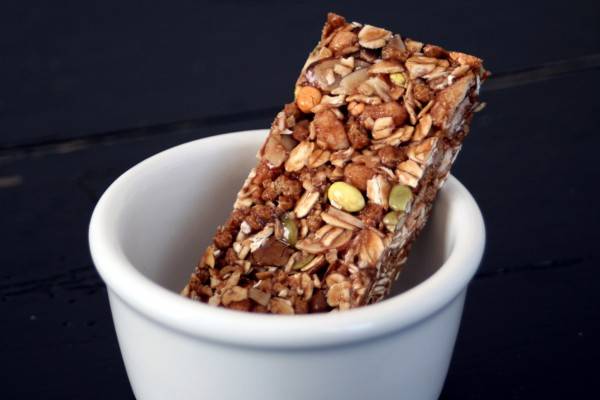 Lately, we've been trying to eat less processed food. There have been a few items we've  eliminated, and for the remainder, we're either still indulging, or I'm attempting to find homemade alternatives.
Finding ways to make favorite snacks at home isn't easy, particularly when you are biased towards a flavor and texture you're accustomed to (even if it is riddled with preservatives and wrapped in plastic.) One staple at our house, especially for my husband who needs high-calorie grab and go food for his busy job, is the granola bar. We like 'em kind of chewy and packed with lots of fruits, nuts, and other good things.
It was difficult to find a recipe that provided a bar that wasn't as hard as a rock, but wasn't so soft that you couldn't pick it up and eat it without it falling apart. But, triumph, I finally found it. And the beauty is that it is endlessly adaptable to whatever flavors and add-ins you like.
The recipe is inspired by 'Crunchy Granola Bars' in Emily Franklin's book Too Many Cooks, but I changed enough components so mine wouldn't turn out super-crunchy. Enjoy!

Chocolate Cherry Granola Bars
2 T almond butter
2T nutella
3 T honey
3 T brown rice syrup
1/2 tsp vanilla
1 T brown sugar
1/2 c puffed wheat cereal
1/2 cup bran bud cereal (I used All-Bran)
1 1/2 c old fashioned oats
1/2 c dried cherries
1/4 c raw pumpkin seeds
1/2 c chocolate covered  or regular sunflower seeds
1/2 c sliced almonds
1) Heat and whisk  nut butter, nutella, honey, brown rice syrup, and brown sugar over low heat until melted and smooth. Remove from heat and whisk in vanilla.
2) Mix together cereals, oats, fruit, seeds and nuts in separate bowl. Let your child eat handfuls of yummy stuff from the bowl.
3) Pour nut butter mixture over dry mixture, and stir until everything is well coated.
4) Line a 7×11 baking dish with parchment paper (leave ends overhanging for easy removal), and then really press granola bar mixture into pan.
5) Bake for 20 minutes at 325 degrees.
6) Remove from oven, let cool slightly and then press everything down again. Let cool completely before removing slab of gran0la bar goodness from pan and cutting it into bars, or whatever shape tickles your fancy.
You could use any type of nut butter (soy, peanut, tahini), and of course any type of dried fruit or nuts. Chocolate chips, coconut, flax seeds, apricots…the possibilities are limitless!