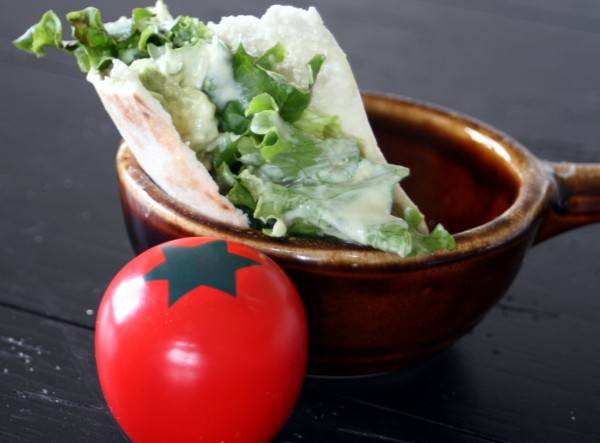 Do me a favor. Go open your fridge. How many bottles of salad dressing do you have? Can you actually remember when they were purchased? If not, that's a problem. "But they're still good!" you say. Well, that's kind of a problem too.
Making your own salad dressing sounds a little Martha, I know. But trust me, it's not a big commitment, it keeps for several days, and you'll NEVER go back. Guar gum just doesn't taste that good.
This creamy, pale green dressing is spiked with garlic and lemon juice, with a whole avocado mixed in for extra flavor and nutrition. It is great on salads, but also makes an excellent veggie dip. I used it to top what may be my go-to lunch this summer: greens tucked in a pita, along with black beans and carrots, drizzled with this green goddess goodness.
Green Goddess Dressing
3/4 cup buttermilk
1/4 cup mayo
1/4 cup plain yogurt, Greek preferred
1 ripe avocado, mashed smooth
juice from one lemon
pinch of salt
dash of sriracha or Tabasco
1/4 cup minced chives
1 clove of garlic, grated
Whisk together buttermilk, mayo, and yogurt. In a separate bowl, mash avocado and lemon juice with a fork or masher until very smooth. Whisk avocado into buttermilk, stir in salt, hotsauce, chives, and garlic.