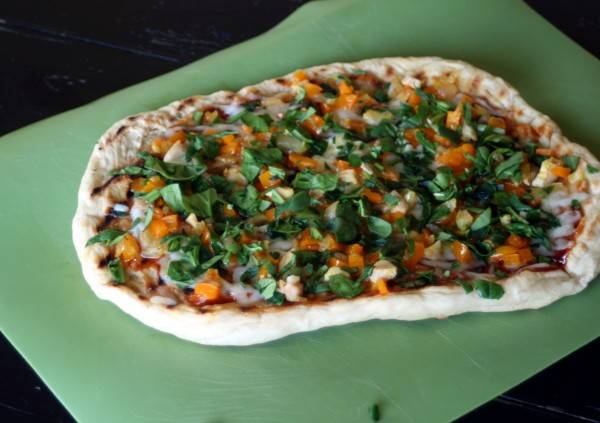 I've been MIA. Lots of other writing (I'll share soon), lots of family illnesses (hopefully spring and a renewed commitment to probiotics will help), and not a lot of sleep.
But there is cooking to be done and gardens to grow. You will be hearing more from me, more often in the coming weeks.
If you haven't dined al fresco yet this year, make this pizza and get out there.
Grilled Pizza
Your favorite pizza dough
Cheese
Toppings that are pre-cooked, or don't need cooking
We made a barbecue chicken pizza. I sauteed onions, sweet orange pepper, and garlic and used leftover roasted chicken tossed with barbecue sauce. The cheese was spicy pepper jack. The whole thing was finished with a shower of chopped spinach and cilantro after removing from the grill.
You want a cheese that melts nicely and to use a light hand with the toppings.
How-to: Heat a grill on high, or you can use an indoor grill pan. The grill racks or pan should be well-oiled.
After your dough has risen, divide it into four equal pieces to make four small pizzas.
Press dough out as thinly as possible, brush on a thin layer of olive oil. Place on grill and cook for 3-5 minutes, until you see nice grill marks. Carefully with tongs, flip dough over.
Immediately sprinkle on cheese and dress with toppings. Cook an additional 3-5 minutes until cheese is melted and grill marks appear on bottom. If using an outdoor grill, closing the lid can speed the melting process.
Remove from heat, and add any non-cooked toppings, like fresh herbs. Let sit for a couple minutes, then slice and enjoy!