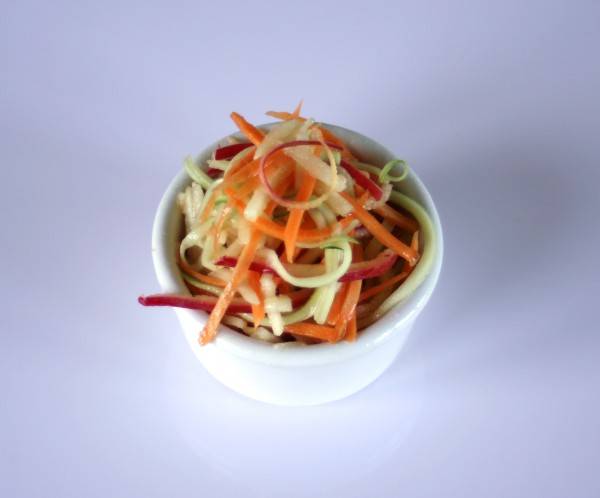 I love my new julienne peeler. It's such a nice little inexpensive tool, and it makes eating raw vegetables so much lovelier. And it's kind of cathartic to julienne an entire zucchini with a little slicer, and also a bit of an arm workout. I also love this salad.
Many, many months ago, when I was quite pregnant and working downtown, I would frequently indulge in a hobbit's second breakfast. And often this second breakfast would occur at Cafe Soleil, the former downstairs cafe/bakery of L'Etoile.
Alongside their croissant egg sandwich, they served a delightful little side salad of very finely shredded apples and carrots, with a light, sweet dressing. That is what inspired the recipe below. It's a great way to use up some of your garden or farmer's market produce, and it's a fun way to eat your veggies.
Haystack Salad with Maple Vinaigrette
(you can use whatever amount of veggies you want, just dress accordingly)
I shredded 2 carrots, 1 small zucchini, and 1 large apple with my julienne peeler. You could also use the shredding disk on a food processor. Dress with maple vinaigrette.
Maple Vinaigrette
1/4 cup cider vinegar
1 T dijon mustard
1/2 cup vegetable oil
4 T maple syrup
juice from one lime
salt to taste
1) Shake all ingredients up in a jar, or whisk everything up but the oil, and then whisk in the oil in a steady stream.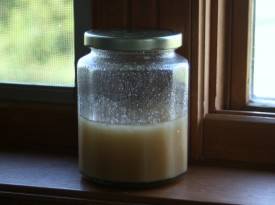 And don't forget to enter the giveaway! You have until Sunday night to throw your hat in the ring to win a new cookbook.