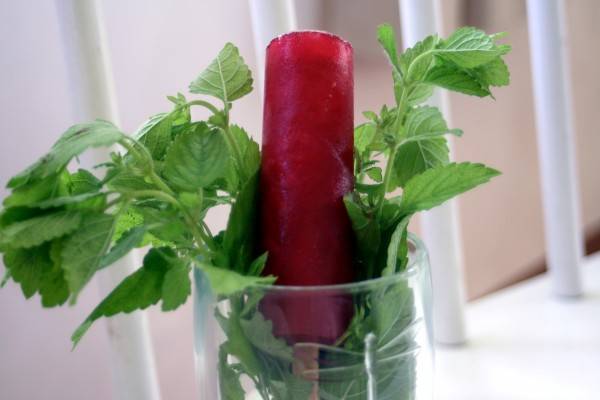 As the weather turns sultry, my fetish for ice pops rises once again. The concept is so easy – a seasonal fruit puree (or in this case a sexy herbal tea), a simple syrup, and voila – you have an ice pop worthy of guests, your children, or whomever needs something cold and sweet that day.
My friends and fellow Wisconsinites over at Burp! Where Food Happens are doing a series on seasonal summer herbs, and a recent post on simple syrups inspired me to get out my popsicle sticks. This particular ice pop is very sophisticated, and while appropriate for anyone needing a pick-me-up on a hot summer day, would also be an elegant replacement for a sorbet course at a fancy-schmancy dinner party.
Hibiscus Lemon Balm Ice Pops
makes 5  2.5 oz popsicles (my ice pop molds are rather diminutive)

1/2 cup water
1/2 cup sugar
1 small bunch lemon balm
2 bags hibiscus tea (I used Tazo's Passion)
1 1/3 cups water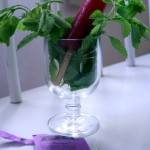 1) Heat 1/2 cup water in small saucepan until almost boiling. Stir in 1/2 cup sugar until dissolved. Toss in lemon balm, and let steep for at least 30 minutes. Strain syrup to remove lemon balm.
2) Boil 1 1/3 cups water. Steep tea bags for at least 30 minutes. Remove tea bags.
3) Combine tea and simple syrup. Pour into ice pop molds and freeze until solid.