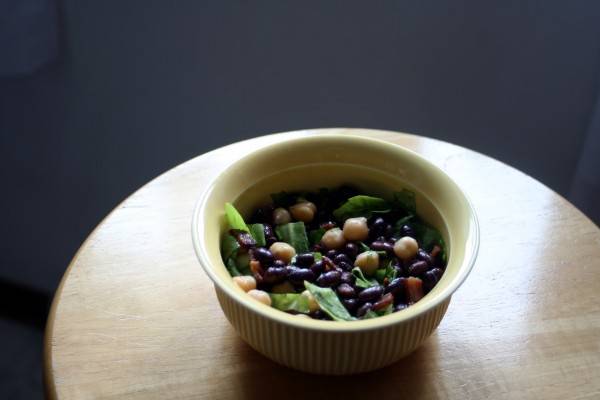 Now that you all weigh an extra 200 pounds after the recent spate of dessert posts, here's a healthy salad (with the tiniest bit of bacon) to help you detox a bit.
Inspired by Honey Balsamic Bean Salad at 101 Cookbooks
Honey Bacon Two Bean Salad
1 15 oz can chickpeas, drained and rinsed
1 15 oz can black beans, drained and rinsed
1 bunch romaine, chopped
6 slices bacon, cooked and crumbled
2 T honey
2 T sherry vinegar
juice from 1/2 lemon
2 tsp fresh thyme, finely chopped
2 tsp olive oil
salt to taste
1) Mix beans, romaine, and bacon in large bowl.
2) Whisk together honey through olive oil. Pour over salad, toss, and salt to taste.
We ate this for dinner all by itself, with some crusty bread. But it would make a nice side dish for something from the grill.