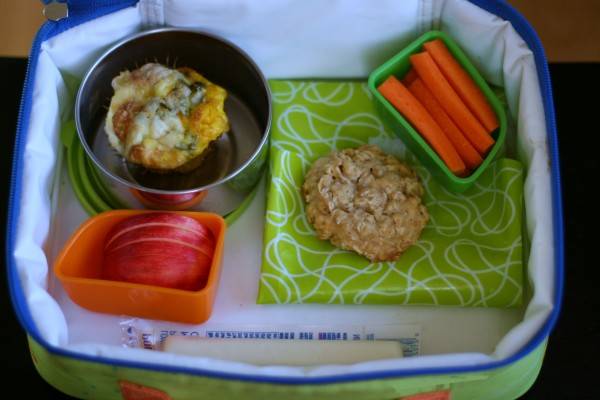 I only cried a little bit.
I dropped my baby off at kindergarten last week. I wasn't feeling sad until I wrote this column for the Milwaukee Journal Sentinel.
There are a lot of giant kindergartners out there. Mine is small for his age anyway, plus he's a fresh five. So many parents seem to wait these days until the ripe old age of six to send their babies to school. For many reasons, we chose to send him now (one of which is that he could probably carry on a viable conversation with Nikola Tesla).
So here we are: the school lunch. The only control you have is packing it–the rest is up to your kid. Eat it, stare at it, trade it, throw it away (argh). All you can do is send it.
We're keeping it pretty simple. None of this (though more power to you if you can swing such artistic endeavors after your kids finally. go. to. sleep.)
My son and I came up with a list of things he would be interested in seeing in his lunch box. Cookies were number one. Soup (?) was a close second. For now, we're doing some sort of sandwich, wrap or leftovers (see egg muffin above, recipe here). But I have a thermos ready to go when the weather turns cool.
I fill in the gaps with fruits, veggies, cheese, crackers, trail mix and the like. I'm lucky, he's a good eater. Plus, there's no morning snack and they've typically already had one recess and gym, so he's one hungry puppy when it's time to sit down. He's already complained that he doesn't have quite enough time to finish (oh if only we were French,) so that's another bonus for the 'cold' lunch–no time wasted standing in line for food. I pack him a water bottle too, so he doesn't have to stand in line for milk either.
So take heart moms and dads! Talk to your kid and keep lunch simple. Have a rough list of 'components' you can draw from each week, or even make a rotating menu plan (I'm not that organized, but I love the idea.)
Mornings are rough, but lunch can be easy. Easier than getting your three-year-old to put on pants.
Below you will find a great lunchbox cookie. Soft, simple and not overly sweet (no refined sugar). The honey keeps them moist–I made them on Sunday and they stayed in great condition all week.
Honey Oatmeal Cookies
3/4 cup unsalted butter (1 1/2 sticks), softened
1 cup honey
1 teaspoon pure vanilla extract
1 large egg
3 cups old fashioned oatmeal
1 1/2 cups all-purpose, unbleached flour
1/2 teaspoon fine salt
1 1/2 teaspoons baking powder
3/4 teaspoon baking soda
Preheat oven to 350 degrees.
Beat butter until it is light and fluffy. Mix in honey, vanilla and egg, beating well after each addition.
In a separate bowl, whisk together oatmeal, flour, salt, baking powder and soda.
Add dry ingredients to butter/honey and mix until just combined.
Drop generous tablespoonfuls on baking sheet. Lightly press down with the heel of your hand. Bake for 10-12 minutes until the edges are lightly golden. Remove from oven and let set up on baking sheet for 3-4 minutes. Move to a cooling rack. Store in an airtight container for up to 6 days.