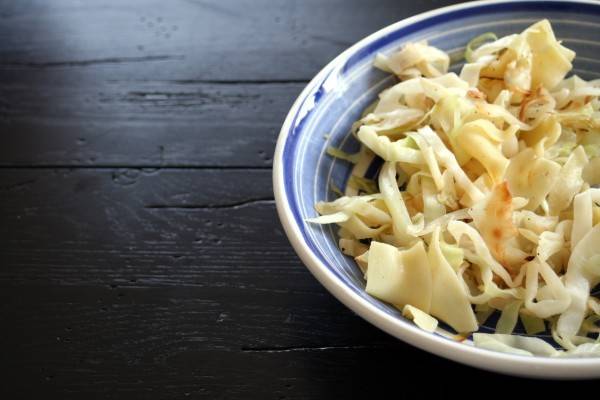 I wish I had a lovely story about my grandmother stirring up a pot of this when I was feeling sad, but alas, I don't. This is an incredible comfort dish, it rivals grilled cheese and tomato soup.
The egg noodles are soft, silky, salty, and buttery. The cabbage is sweet, nutty, and caramelized. Combined, they are heaven.
I saw this recipe in Cook's Country America's Best Lost Recipes, but I reversed the ratio of noodles and cabbage. I wanted this dish to be heavy on the vegetable, but feel free to double the amount of egg noodles if you want more pasta.
Hungarian Noodles and Cabbage
1 generous tablespoon rendered bacon fat or vegetable oil (but let's be serious, the bacon fat is much, much better)
1/2 head of large green cabbage, cored and sliced thinly
pinch of salt for the cabbage, 1 T salt for the pasta cooking water
8 oz wide egg noodles
1 T butter
freshly ground black pepper to taste
1) Heat oil or bacon fat in a large skillet. Add cabbage and a pinch of salt. (If you don't have a large skillet, you may want to cook the cabbage in two batches to ensure it browns well). Cook the sliced cabbage over medium-high heat, stirring frequently, until it is soft and beginning to brown.
2) Bring pasta cooking water to a boil with 1 T salt and cook egg noodles. Drain and toss with 1 T butter.
3) Add noodles to cabbage, sprinkle with pepper, stir well and enjoy.