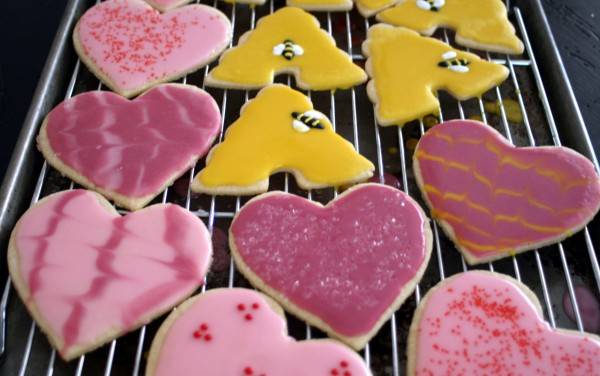 We had a brief spring-tease here last week. My kids and I enjoyed going outside in fleeces, and stomping around in the slush. However, we are Wisconsinites and we know that winter is far from over. In fact, it has already snowed again!
Making these cookies was a nice way to spend the afternoon, and the brightly colored icing made us think of sunny days and spring flowers to come.
While chocolate chip cookies make me think of my dad, sugar cookies belong to my mother. My mom makes the thinnest, prettiest, most delicious sugar cookies. She has impeccable technique that I do not have the patience to replicate. However, this is my best batch to date. Taking the time to roll them thin and chill them after cutting them out helps enormously. Rolling out the dough in a mixture of flour and sugar is also a trick I learned from her. Thanks Mom!
Sugar Cookies
slightly adapted from Once Upon a Tart (one of my favorite cookbooks)
depending upon what size you cut them, this makes a lot of cookies
2 1/2 sticks unsalted butter, softened
2 cups sugar
2 eggs
1 1/2 tsp vanilla extract
1/2 tsp almond extract
4 1/2 cups all purpose flour
1 1/4 tsp baking powder
1 tsp salt
extra flour and sugar for rolling out cookies
1) Beat butter and sugar together until light and fluffy (several minutes). Add in the eggs and the extracts, beating until completely combined.
2) In a separate bowl, whisk together the flour, baking powder and salt. Add flour mixture to butter mixture, and mix at low speed until dough forms a ball and cleans the sides of the bowl.
3) Divide the dough into two portions, roll into a ball and flatten. Wrap in plastic and chill for at least an hour. (You can freeze any unused dough for several months.)
4) Dust your surface and rolling pin with flour and sugar. Bring dough out of the fridge, and let it warm up for a few minutes. Cut one chilled portion into quarters, and roll out to a thickness somewhere between 1/4 and 1/8 inch thick, dusting with more flour and sugar to prevent sticking. Cut with cookie cutters, and carefully lift and place cut dough on a baking sheet lined with a silicone liner or parchment paper. Put in freezer for 10 minutes, or fridge for 30 minutes. This will ensure that your cookies hold their shape.
5) When ready to bake, preheat your oven to 350 degrees. Bake for 8-12 minutes (baking time depends on the size of the cookie.) Cookies are done when they're still pale on top, but slightly golden-brown underneath. Let cool on sheet for a few mintes, then transfer to a cooling rack. When completely cool, ice and decorate.
Icing
(this is from my sister-in-law April, who found it somewhere online–sorry original creator!)
4 cups powdered sugar
8 T milk
8 T light corn syrup
1 tsp almond extract
Stir powdered sugar and milk together until smooth. Beat in corn syrup and extract. Icing should be thick but pourable. Divide and color. I use a spoon to dollop on icing and spread it around. This icing tastes great, but doesn't set up completely. It will dry enough that you can eat them without dripping all over yourself, but you cannot stack iced cookies together. If you want something that really sets up, look up a recipe for royal icing. It sets hard (but frankly, doesn't taste very good.) 
And if you've been with me a while, this concludes my twelve treats of Christmas series. Better late than never–at least it's still winter!