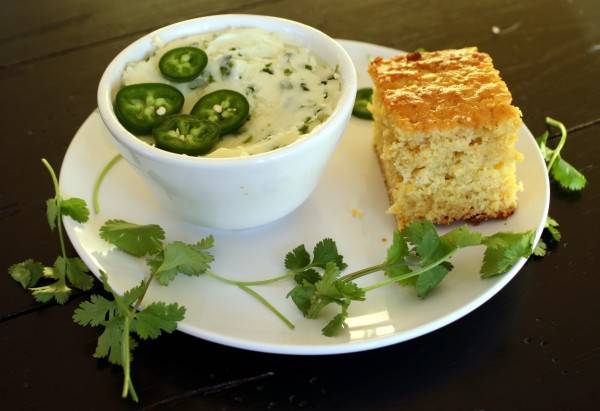 I'm not sure how you spent your morning. I had a soup party with two baby birds, a mama deer, a bear named Bearconsin, a goat named Judsen, and two beavers, named Auntie Mikus and Nutmus respectively. We ate acorn watercress soup. Then we had a sing-along with John Denver.
This has nothing to do with my recipe, but is a simple reminder of how beautiful and fun the imaginations of very small children are.
Now on to something a little spicier. Jalapeno Lime Butter, adapted from one of my favorite chefs, David Tanis. This butter is a dressing for a summer salad in his beautiful cookbook, A Platter of Figs and Other Recipes.
Maybe it's because I can feel spring in my bones, or maybe I need a pick-me-up because we're at the end of winter, but I've been craving spicy food. I've been adding diced jalapenos and sriracha sauce to almost everything.
We used this butter to top sweet cornbread that accompanied golden chicken chili (recipe coming soon). As mentioned by Chef Tanis, this would also make a superb butter for corn on the cob come this July. I also think it would zest up salmon or whitefish.
Jalapeno Lime Butter
adapted from A Platter of Figs and Other Recipes by David Tanis 
1/2 cup unsalted butter (1 stick), softened
1/2 teaspoon coarse salt
juice from 1/2 lime
2 tablespoons honey
1 jalapeno, minced (don't remove seeds for a spicier butter)
Mash everything up together well, and pack into a ramekin. Serve soft, or store covered in the refrigerator. Can also be frozen, well-wrapped, for several months.