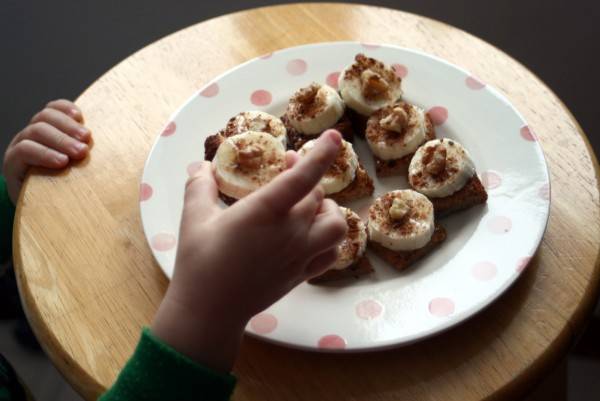 This is a fun, yummy breakfast or snack for an older toddler (or an adult). Often our snacks and breakfasts are pretty simple–fruit and yogurt, crackers and cheese–so sometimes it's fun to take a few more seconds to assemble something that will make your little one smile (and grab said snack before you are finished photographing it.)
This snack has it all. Protein, fruit, a little dose of omega-3s, and flavor.
Banana Stackers
1 slice whole wheat toast
1 T natural peanutbutter
3/4 banana, sliced thickly
sprinkle of cinnamon
sprinkle of flaxseed (ground)
drizzle of honey
3-4 walnuts, broken into pieces
Spread toast with peanut butter and cut into nine little squares. Put a banana slice on each square. Sprinkle with cinnamon and flaxseed, drizzle with honey and place a walnut piece on top of each banana.