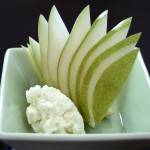 Kid's snacks these days are kind of sad. All manner of little puffed or gummy fruit things, sealed up in a plastic pouch – they seem harmless, but if you look closely at the ingredients, there are a lot of mystery items in there.
While I think all of us should be avoiding lengthy and unpronounceable ingredients, I'm more sensitive when it comes to my young son. He's so small, and he's putting much of his caloric intake towards Herculean feats – like growing his brain, or cracking the bowl of my salad spinner.
While some days we take the easy way out and eat plain Cheerios or string cheese for a snack, other days I try to keep things more interesting and diverse. From time to time I'll try to feature these afternoon snack delights (that is, if I can get a photo before his sticky fingers nab the goods.)
I have worked hard to introduce my son to a wide variety of foods and tastes, and I'm sure I have a bit of luck that he's inherited my adventuresome palate. He will taste anything; from a raw onion on my cutting board, to a dried up cattail stem out by the pond. While this does cause a few issues from time to time (especially when we are not in the kitchen), I'm proud and amazed at his willingness to try and enjoy new things. If your kids are older and choosier, just keep trying. Let them see you enjoying new things, and don't quit after a single rebuff. Make it fun and low-pressure, and eventually they may surprise you.
A really long intro to a really, really simple snack! A sliced ripe pear, accompanied with a sweetened soft cheese for dipping. I was lucky enough to have some delightful Honey Lavender 'Driftless' fresh sheep's milk cheese from Hidden Springs Creamery. If you are not as lucky as I am, you could use ricotta with a bit of honey mixed in.
Enjoy! It powered us through another hour of afternoon gardening.