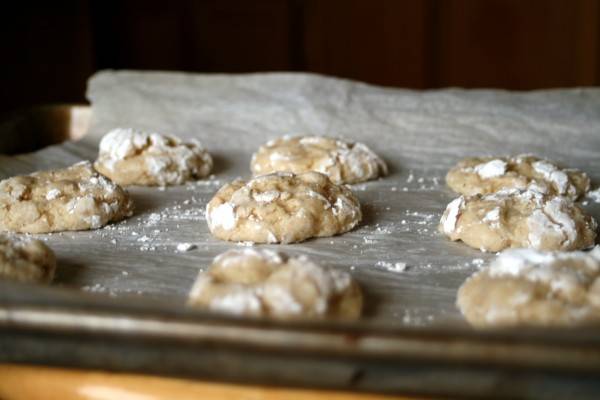 Should I be writing to you about celeriac? Or maybe some nice sprouted grain? Nah, you're all at the gym anyway.
For those of you who have already fallen off the New Year's resolution bandwagon, for those of you who never got on, and for those of you whose New Year's resolution is to eat more cookies, this post is for you.
This recipe comes to you via Lottie + Doof, which is an extremely stylish cooking blog. Since Tim, the author, is practically my neighbor (Chicago), I daydream that one day I'll attend a fabulous dinner party in his very well-lighted and well-appointed apartment. Tim, if this ever happens, I promise I'll come with some bandaged cheddar in hand.
The recipe was created by Mathew Rice, pastry chef at Nightwood Restaurant in Chicago. This is now on my wishlist of places to eat, primarily because their menu is handwritten, and one item is described like this: "Spit-roasted pork loin, lots of delicious fat, brown sugar, farro, onion rings, anchovy dressing". Brown sugar AND lots of delicious fat? I'm in.
This cookie is a revelation, one whose muse is the famous St. Louis gooey butter cake. The original recipe is perfect: a light, creamy, sweet cookie, that when kept in the refrigerator has a toothesomeness that is addictive. And you can store them in your icebox for up to a week (although as Tim points out, 'good luck with that'.)
For the original recipe, I point you directly to Lottie and Doof, as the method is perfect. I highly recommend making this cookie as is. After you have enjoyed it,  try my citrus version with a hit of tangy lemon to complement the creamy sweetness. (I'm also thinking about a chocolate version).
Lemon Cream Cookies
adapted from Mathew Rice's Gooey Butter Cookies, via Lottie and Doof
4 3/4 cups all purpose flour
4 teaspoons baking powder
1 1/2 teaspoons salt
3 cups sugar
3 teaspoons lemon zest (or as much as you can get from three lemons)
1 pound cream cheese, softened
1 cup unsalted butter, softened (2 sticks)
2 eggs
2 teaspoons vanilla extract
1/2 cup lemon juice
confectioner's sugar for rolling
Whisk together flour, baking powder, and salt in a medium bowl.
Take one cup of sugar and lemon zest, and whir together in a food processor. Alternatively, use a knife or a bench scraper to chop the zest finely and scrape together with the sugar.
In a separate bowl, beat cream cheese, butter, and all of the sugar (including your lemon-scented cup) until very light and fluffy. Add in eggs, vanilla extract, and lemon juice.
Dump in the flour and mix until combined. Chill dough for at least 30 minutes.
Form loose, walnut-sized balls and roll in confectioner's sugar. Place on a lined baking sheet. Preheat oven to 325 degrees, and bake for 14-16 minutes. You do not want cookies to brown.
After a few minutes, transfer carefully to a cooling rack (cookies will be very soft). Mathew's tip is to put the baking sheet directly into the fridge and lift off when they are chilled, but I didn't have enough baking sheets to try this.
The cookies are better chilled than warm, so store in the fridge and serve cool, dusted with additional confectioner's sugar if desired.
Note: I just started a Facebook page for Tallgrass Kitchen. If you like me (and I hope you do), please click the 'like' button on the upper right-hand corner to get the latest posts, tips, and other odd bits.