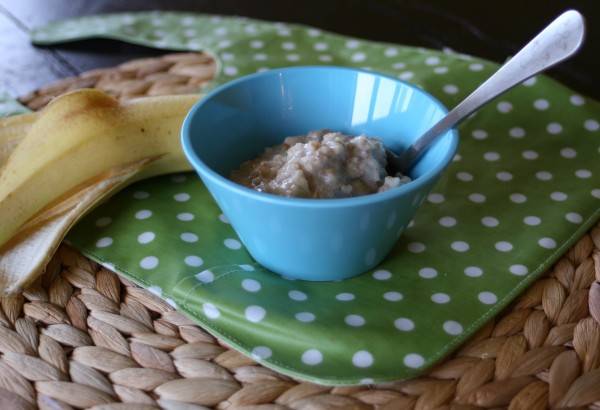 My three year old took a bite of his breakfast and asked me, "Mommy, is this pudding?" 'Nough said. This is a good breakfast. So much so, one might actually think it is dessert.
And  not because it is overly sweet, just very flavorful for such simple ingredients. The oats are creamy, the banana and vanilla bring the party, and cinnamon and maple syrup warm and sweeten it up. To me, it tasted like a banana muffin in a bowl.
My only mistake was that I didn't make enough, and my two kids ate it all. I doubled the recipe for you here, so you should have enough for two adults, or a small herd of children and a hungry parent.
This does take a few minutes longer than cold cereal or instant oatmeal in an envelope, but it is worth it. Especially as the mornings grow chilly. You have coffee to lure you out of bed, what do your kids have to look forward to? Perhaps this oatmeal.
Maple Banana Oatmeal
3 cups whole milk
1 1/2 cups old fashioned oats, chopped briefly in a blender
1  banana, diced (ever-so-slightly underripe will hold its shape better)
1/2 tsp cinnamon
1/2 tsp vanilla
2-3 T maple syrup (sweeten to taste)
Optional toppings: more diced banana, chopped walnuts, a bit of salted butter, another glug of milk or cream.
Use a blender or food processor to chop the oats up a bit–just pulse it a few times. You don't want to grind them to a powder, just break them down a little. They cook faster, and yield a creamier oatmeal.
Meanwhile, bring the milk to a low boil. Turn down the heat, and whisk in the oats. Cook until thick and bubbly, about five minutes. Remove from the heat, and stir in banana, vanilla, and cinnamon.
We topped ours with a dot of salted butter and more milk. Chopped walnuts would add a nice crunch and protein (and if my baby wasn't allergic, they'd be all over this oatmeal.) Enjoy.