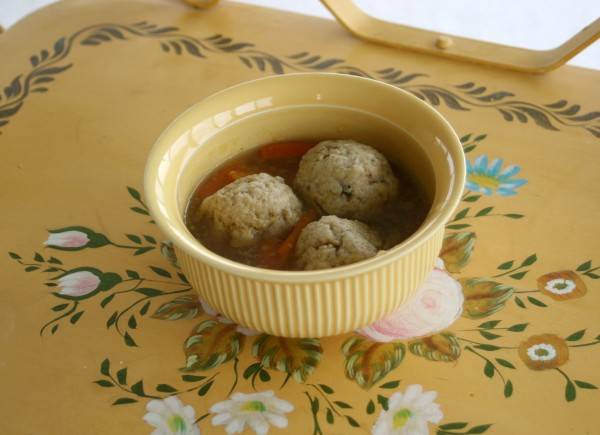 I went to college far away from home, and while I enjoyed almost everything about the university I chose, there were some times when I would have traded it all to be back home.
Getting sick was the worst. No one to bring you 7-up, put the television by your bed, or genuinely feel bad for you. Yeah, you may have some sympathetic friends, but secretly they are just happy it isn't them. No one but your mother truly feels as bad as you do when you are ill.
That said, I do remember a time during my junior year when I had a terrible head cold. My roommate and best friend Joanna was an excellent nurse, her primary treatment being a big pot of matzo ball soup. She was quite convinced this was the best way to fix any ailment, and I think she (and all of the Jewish grandmothers out there) are definitely on to something.
Ever since then, I've had a great fondness for this soup, and make it frequently during fall and winter–especially when anyone is feeling rundown.
While I typically make my own chicken stock, until recently I had not found a matzo ball recipe that I really liked. Most turn out too heavy. But Deena over at Mostly Foodstuffs has a recipe that turns out perfectly. Find her full soup recipe here, along with a great article on hosting a soup swap.
Matzo Ball Soup
For the matzo balls (adapted from Mostly Foodstuffs):
1/2 cup vegetable oil
5 eggs
3/4 cup plus 2 T matzo meal
1/2 tsp baking powder
1 1/2 tsp salt
handful fresh parsley and chives, finely chopped
Whisk the oil and eggs together, and then add in 3/4 cup matzo. Continue adding matzo meal until the mixture is thickened, but still loose. Stir in baking powder, salt, and herbs. Chill for at least 10 minutes.
For the soup:
2 quarts chicken stock
3 large carrots, cut however you wish
Bring stock to a rolling boil. Add in carrots, and lower to a simmer. Form matzo mixture into balls about the size of a small walnut (they will expand while cooking), and drop into simmering soup. Cover, and cook for about 15 minutes.
Sometimes I add in wide egg noodles, chicken breast meat, or other vegetables and herbs, but when I'm sick I like it nice and simple. This is a soup where it is great to use homemade chicken stock.
Making stock is easier than you might think. Anytime I have some leftover chicken bones or vegetable odds and ends (carrot peels, celery stalks, tough onion layers), I simply stick them in a container and keep them in the freezer. When I'm home for an afternoon, I brown the veggie bits in a little vegetable oil, add several quarts of water, the chicken bones, a bay leaf, some pepper corns, smashed garlic cloves, and a pinch of salt. Bring to a boil and then simmer for at least an hour, longer if you want a more concentrated flavor. Stock can be frozen flat in ziploc bags and used in all sorts of things. Try it! Added bonus: you can skim off the chicken fat when the stock is cool, and save it for your matzo balls. Replace the oil with rendered chicken fat (aka, schmaltz) for added flavor.