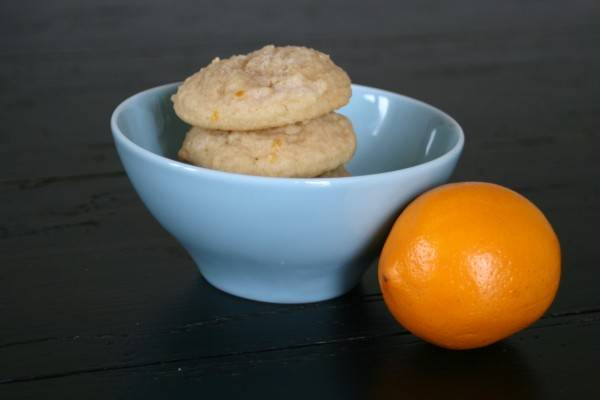 When I find something ultra-seasonal and ephemeral at the market, I am very excited. Now I realize that an item's rarity is defined by your geography, so some of you may be swimming in Meyer lemons, but in Wisconsin they are here for a brief time. Meyer lemons are a small golden yellow citrus, thought to be a cross between a lemon and a mandarin orange. They are less tart than a standard lemon, with a sweeter, floral taste and aroma that makes them very distinctive.
My excitement is soon surpassed by panic. This always happens to me with Meyer lemons and fresh figs. I can only make one, maybe two recipes with my bounty. Choosing a recipe that will highlight the fruit's unique qualities, and making sure it is something I won't mess up, stresses me out a little.
Last year I made lemon bars with my Meyers. It turned out not to the greatest idea. What I love about lemon bars is their tart sweetness. Meyers aren't that tart, so they made the bars kind of perfumey and sweet. I wasn't crazy about them.
This year, I believe I hit a home run. A simple drop sugar cookie, infused with Meyer lemon juice and zest. Not super-sweet, but nicely highlighting the fruit's special flavor.
You could fancy them up with a little lemon icing drizzle, but we enjoyed them plain and simple.
Meyer Lemon Sugar Cookies
1 1/4 cups sugar, plus 3 T
zest of two Meyer lemons (about 2 T)
2 sticks unsalted butter, softened
3 egg yolks
1/3 cup Meyer lemon juice
1 tsp vanilla
2 3/4 cup flour
1/2 tsp salt
2 1/4 tsp baking powder
1) In food processor, blend all sugar and lemon zest until zest is chopped and everything is well-combined and smelling pretty.
2) Cream butter and 1 1/4 cup sugar until light and fluffy. Add eggs, lemon juice, and vanilla, beating well after each addition. Reserve additional 3 T of lemon sugar for sprinkling.
3) Sift together flour, salt, and baking powder in a separate bowl.
4) Add dry ingredients to your butter, and stir until combined.
5) Preheat oven to 350 degrees. Drop spoonfuls of dough onto a lined baking sheet. Sprinkle tops of cookies with reserved lemon sugar. Bake for 9-12 minutes until just turning golden on bottoms.
Note: I'm sure making these with regular lemons would be just as yummy.
Additional note: If you found Tallgrass Kitchen from Babble.com's Top 100 Mom Food Blogs, welcome! Come back and visit anytime, and I'd love to hear what you think. And Babble, thank you for including Tallgrass Kitchen in your Top 100 list. I'm honored.