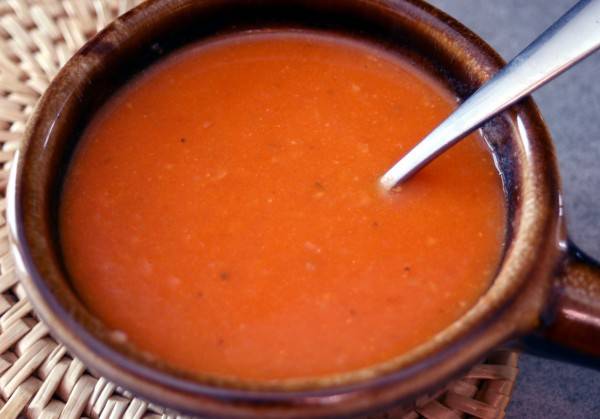 When it was very cold outside or I was just having a rotten day, my mom would often make me cream of tomato soup and a grilled cheese sandwich (cut in half, on the diagonal, for easy dipping.) The soup was served very hot, and a small bit of butter was dropped in at the last second to melt into the soup and finish it.
The soup was Campbell's condensed, mixed with 1 can of milk. When I was old enough to make it myself, I learned you had to stir the milk in a little bit at a time in order to keep the soup smooth. I've made this lunch (and dinner) through high school, college, and adulthood. It is my ultimate comfort meal.
I love soup, and I've been making soup from scratch for years. But I've had a hard time breaking the Campbell's Cream of Tomato habit. No tomato soup recipes ever quite lived up to its smoothness, creaminess, and vivid pinky-orange color. Many tomato soup recipes taste more like marinara sauce – and that isn't comforting.
After lots of experimentation, I came up with the recipe below. The good news is that it is simple, fast, and can be made from pantry staples. I'm sure you could improve upon it by using fresh garden picked tomatoes instead of canned, but who needs a soup pick-me-up in August? This soup is needed in the middle of an endless snowy February, when nary a good fresh tomato can be found.

Simple Tomato Soup
2 T butter
1 T olive oil
1 medium onion, chopped
4 cloves of garlic, chopped
2 tsp sugar
1/2 tsp dried oregano
28 oz can whole peeled tomatoes and juice (fire-roasted, if available)
2 c vegetable stock
1/2 c cooked rice
1/2 c milk or cream
Additional T butter
salt and pepper to taste
1) Melt butter in pot, add olive oil
2) Stir in onions, garlic, oregano, and sugar. Cook over medium heat until soft, translucent, and beginning to caramelize
3) Add tomatoes and stock, bring to a boil. Turn down heat and simmer for 15 minutes (at this point, if you don't have cooked rice on hand, add 1/3 cup uncooked rice and an additional 2/3 c stock. Simmer longer, until rice is cooked.)
4) Add cooked rice, puree with immersion blender or with regular blender until smooth. Stir in milk/cream and additional tablespoon butter. Add salt and pepper to taste.
5) Eat steaming hot, with a grilled cheese sandwich (cut on the diagonal, for easy dipping)