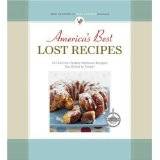 If you're a regular reader, you will know that I am a wee bit smitten with this cookbook. It contains recipes for dishes that would have turned up on your grandmother's table, or at a potluck dinner in the fifties. Think olives encrusted in cheddar dough and World War II Chocolate mayonnaise cake. But bonus,  the recipes have been run through the test kitchens at Cook's Country. The folks over at America's Test Kitchen do nice things such as replace shortening with butter, or simplify cooking steps.
A very, very kind person noticed how much I enjoyed cooking from this cookbook, and gave me a copy for my birthday. I decided to pay it forward and get another copy to give to a lucky one of you.
I'd love to see who's reading my blog now that it has been up and running for 5 months now. To be entered in the giveaway, simply leave a comment and tell me what your favorite seasonal veggie or fruit is, and your favorite way to enjoy it.
Please enter only once, and enter by Sunday, August 8th (midnight central time) to be eligible. The winner will be selected by random.org's random number generator, and I'll announce the lucky person on Monday.
Looking forward to hearing from you all!
anna