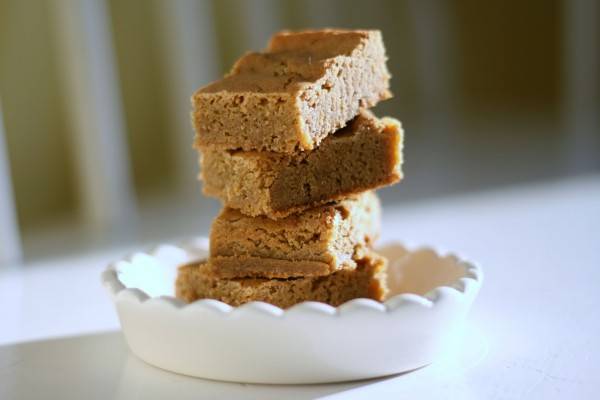 How can you resist a name like Naughty Bars? I found these a few months ago in the Penzey's Spices catalog. I ripped it out and stuffed it in a cupboard  and came across it during some New Year's cleaning.
The organizing resolution soon became the downfall of the 'eat less sugar' resolution, as I immediately abandoned my cleaning project and made a batch of these.
I oomphed up the recipe a bit with browned butter, dark brown sugar, more salt and vanilla. These bars come together super-fast, and are another essentially a blondie. (Which is fantastic, since Bon Appetite proclaimed brownies to be 'out' and blondies to be 'in' for 2013–kind of strange, but I'm game.)
Naughty bars are easier than Oatmeal Carmelitas or Aunt Fanny's Toffee Chew bars. They have a little less going on than these other golden goddesses, but are still delicious and perfect for that bake sale you forgot about until the night before.
Or perfect for the night when your husband is out at the movies and the kids actually went to bed and stayed there and you are out of wine so it's time to bake…you will feel naughty when you see how quickly they disappear. They are like baked caramel.
Naughty Bars
adapted from Penzey's Spices catalog
1 cup salted butter (2 sticks)
2 cups packed dark brown sugar
2 teaspoons baking powder
2 teaspoons pure vanilla extract
1 teaspoon salt
2 cups all purpose flour
2 large eggs, lightly beaten
Butter or line a 9×13 inch pan with parchment and preheat oven to 350 degrees.
Melt butter in a medium saucepan over medium heat. Continue heating, stirring occasionally until golden brown and fragrant. Remove from heat and stir in brown sugar until dissolved.
Add baking powder, vanilla and salt. Stir until completely combined. Stir in flour until there are no white streaks.
Add eggs and stir until everything is mixed. It will be very thick. Scrape into prepared baking dish and use a knife or offset spatula to smooth the top.
Bake for 15 minutes. Open the oven, and with oven mitts pick up the baking pan and rap it firmly against the oven rack (if you want bars with a dense, fudgy texture). Bake for an additional 5-10 minutes until the edges are just golden and the middle is still soft–don't overbake!
If these sound good, give these a try too!
Dorie Greenspan's Chewy Chunky Blondies from Lovin' From the Oven
Homemade Snicker Bars from Brown Eyed Baker
Fleur de Sel Chocolate Chip Blondies, from Bake or Break