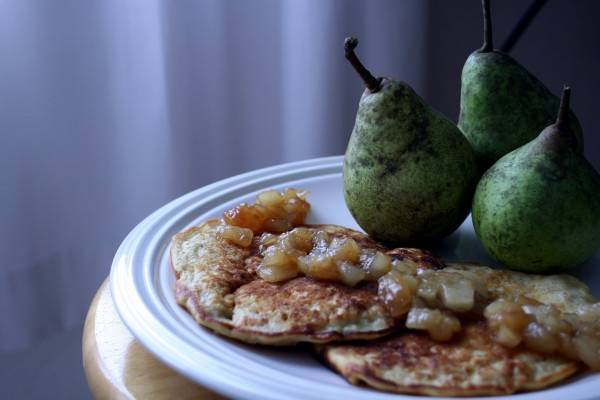 We have fantastic neighbors. Not just good neighbors–good neighbors are people who live in close proximity and refrain from having a garage metal band or weed-whacking at 6 am. Fantastic neighbors let you walk on their trails whenever you want, let you borrow a single egg (and deliver it to your door in the pouring rain), give your delighted two-year-old a chainsaw demonstration, and BRING YOU PEARS from their PEAR TREE!
I harbor many secret fantasies – a close second to my number one fantasy (running a sophisticated ice pop truck), is having a fabulous orchard. A stand of my own apple, plum, apricot, sour cherry, and pear trees, freeing me from insufferable grocery store orchard fruit forever. Well, until I get my own, I'll just have to continue living next door to kind neighbors who share the fruits from their orchard.
Said fantastic neighbors gave us a large bag of pears. They weren't quite ripe enough to eat out of hand yet, but I couldn't wait to do something with them. I made a pear compote, and I liked that the pears were a bit under ripe, because they held their shape instead of turning to pear mush (not that that isn't tasty too.)
And served over the pancakes below–divine!
Maple Pear Compote
4 slightly under ripe pears, chopped
2 T butter
2 T maple syrup
3 T brown sugar
squeeze of lemon juice
1) Melt butter in pan and let brown slightly. Add pears, syrup, and sugar. Stir and bring to a boil.
2) Let boil for 5-10 minutes, until pears are soft but still hold their shape. Remove from heat and drizzle with lemon juice.
Oatmeal Pancakes from Deborah Madison's Vegetarian Cooking for Everyone
1 1/2 cups old fashioned oats
2 cups buttermilk
2 eggs
1 tsp vanilla
2 T maple syrup
1/4 cup vegetable oil
1/2 tsp salt
1/2 cup flour
1/4 tsp grated nutmeg
1/2 tsp baking soda
1) Stir oats and buttermilk together, let stand for about 20 minutes.
2) Beat eggs with vanilla, maple syrup and oil, then stir in the soaked oats.
3) Whisk together salt, flour, nutmeg, and baking soda in separate bowl. Stir everything together.
4) Drop spoonfuls onto heated, greased skillet. Flip when bubbles pop and form small holes, and cook until second side is golden brown.
Note: These pancakes are very moisture-rich, and cook more slowly than typical pancakes. Be patient, it's worth the wait. These cakes are also spectacular cold out of the fridge, especially when made into a peanut butter and honey sandwich.