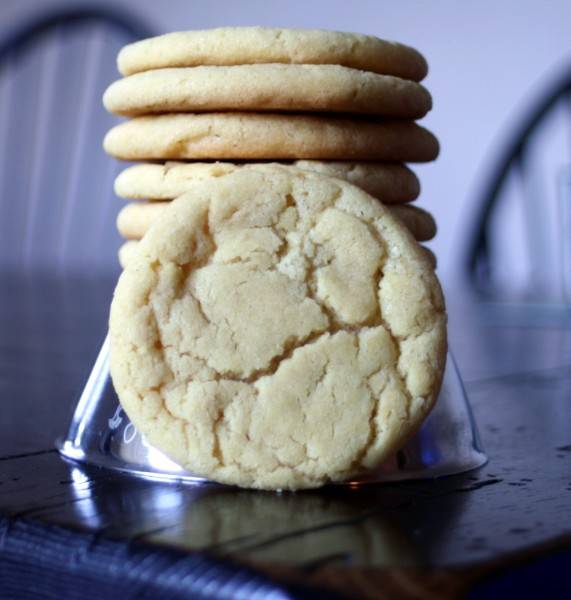 Note: If you found your way here from www.babble.com, welcome! If you didn't, then please visit and read my essay about, you guessed it, cookies!
If you haven't figured it out already, I adore cookies. They are my favorite treat (and occasional breakfast.)
They're the perfect food (if nutritional value is not a consideration). You can carry them in your hand (or pocket, or purse), they are a sweet snack for kidlets, or they can be gussied up as a fancy dinner party dessert. You can even go crazy and put ice cream between two of them for the best ice cream sandwiches you'll ever have. (Try the cookie below with orange or raspberry sorbet–divine.)
Here is a delicious and lovely recipe that I make year round. If you feel like you've over-indulged, you can make an egg white and spinach omelet for breakfast the next day with the leftover egg whites. Or you can eat another cookie.
Old Fashioned Sugar Cookies – from Lee Bailey's Country Desserts
1 1/4 cups sugar
2 sticks butter, softened
3 egg yolks, beaten
1 tsp vanilla extract
2 1/4 sifted flour
1 tsp baking soda
1/2 tsp cream of tartar
1) Preheat the oven to 350 degrees. Cream the butter and sugar until light and fluffy. Add the egg yolks one at a time, beating well after each addition. Mix in the vanilla.
2) In a separate bowl, sift together then flour, baking soda, and cream of tartar. Add the dry ingredients to the butter mixture and mix until combined.
3) Roll into walnut-sized balls, and bake for 11 minutes until soft and edges are golden. If you want to get fancy, you could roll the balls in sugar before baking.