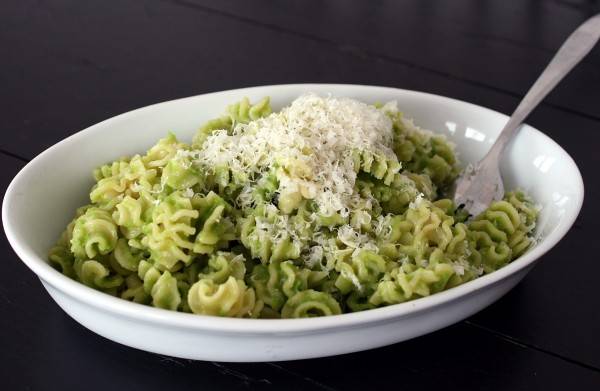 This recipe is one of Ina Garten' s (of Barefoot Contessa fame), and was featured in Oprah's magazine years and years ago. I don't have the actual recipe, and I'm sure I've changed it a bit. I make it all the time. It is simple, uses pantry staples, and offers a bright, clean flavor that is sorely needed this time of the year.
Spring may still be weeks off (maybe months, depending upon where you live), but this vibrant green sauce can help tide you over until spinach, asparagus, and watercress are abundant at your Farmer's Market.

Pea Pasta (adapted from Ina Garten, featured in O Magazine a long time ago)
1 lb pasta (preferably something short, like radiatore or penne rigate)
1/2 red onion, chopped
5 T olive oil
2 T sugar
1 scant T kosher salt
2 cups frozen peas, thawed
1/2 cup low-salt vegetable or chicken broth
1/4 cup olive oil
1 T butter
pepper, to taste
freshly grated parmesan for sprinkling
1) Prepare pasta al dente. While bringing the water to boil and cooking the pasta, you should be able to complete the sauce.
2) Heat 5 T olive oil in large skillet. When warm, add 2 T sugar and 1 T kosher salt. Stir over medium heat until sugar and salt are dissolved.
3) Add onion, and cook until soft and translucent.
4) Add peas (if you want to reserve 1/2 cup of peas as a garnish, leave out and warm up in the microwave) to skillet, and cook a few additional minutes.
5) Put mixture in blender, add 1/2 cup broth and 1/4 cup olive oil, blend until smooth. Stir in butter.
6) Toss with pasta and any reserved peas. Add pepper to taste, and serve with generous amounts of freshly grated parmesan.
Note: if you're sensitive to salt, reduce the initial 1 T a bit, although it is the salt that really gives this sauce its bright taste. If you must use regular table salt, reduce even more as it tastes saltier than a course salt.