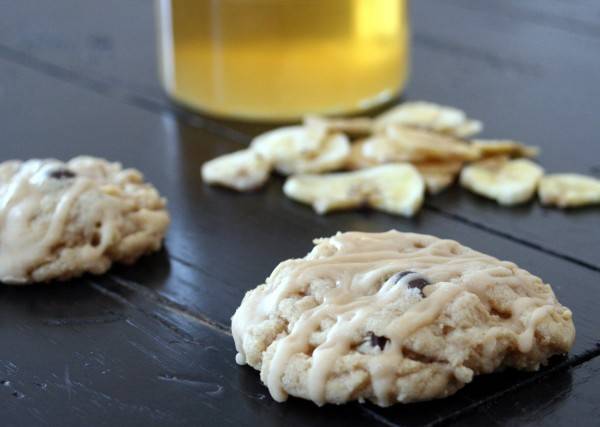 I went out of town for a few days, and the night before I left I made these. I wanted to leave the boys a little something special to remind them that they should be thrilled when I get home, even if it means less tv and more broccoli. That's not much of a price to pay if you also get to eat cookies like these.
These cookies use the same foundation recipe as my chocolate chip cookies, but they have crunchy banana chips, and a drizzle of peanut butter honey glaze. They were inspired by Maria at Two Peas and Their Pod.
She made a peanut butter, banana, and honey cookie that sounded delicious. My recipe is different, but I created it after reading this post. Maria's recipe uses fresh banana and oatmeal, which would yield a very different cookie, but delicious as well. I think you could substitute part of the all-purpose flour in either recipe with some whole wheat for added wholesomeness. Maria has a collection of phenomenal cookie recipes, I encourage you to pay her a visit.
Monkey Cookies (Peanut Butter, Chocolate and Banana Chip)
1 cup butter (2 sticks) at room temperature
18 oz brown sugar (2 1/3 cups)
2 eggs
2 tsp vanilla extract
1/2 cup natural peanut butter (creamy)
8 1/2 oz bread flour (1 2/3 cups)
8 1/2 oz all-purpose flour (1 3/4 cups)
1 1/4 tsp baking soda
1 1/2 tsp baking powder
1 1/2 tsp kosher salt
2 cups semi-sweet chocolate chips
1 1/2 cups roughly chopped banana chips
1) Cream the butter and brown sugar until very light and fluffy (at least five minutes). If you have a stand mixer, use the paddle attachment.
2) Add in eggs, one at a time, and vanilla, mixing well after each addition. Add in peanut butter, and mix until completely combined.
3) In separate bowl, whisk together flours, baking soda, baking powder, and salt .
4) Add dry ingredients to butter mixture, and mix on low until just combined. Fold in chocolate chips and banana chips.
5) When ready to bake, preheat oven to 350 degrees. Scoop dough onto cookie sheet and flatten slightly.
7) Bake 10-12 minutes.  You can make these cookies regular or super-size. Just increase your cooking time by 2-4 minutes for larger cookies. Let cool on sheet for a few minutes, then transfer cookies to cooling rack to finish. When completely cool, drizzle with peanut butter honey glaze, below.
Peanut Butter Honey Glaze
1/3 cup natural peanut butter (creamy)
dash salt
1 tsp vanilla
2 T honey
2 cups confectioner's sugar
3-5 T whole milk (add more if a thinner consistency is needed)
1) Beat peanut butter, salt, vanilla and honey together until combined. Add confectioner's sugar and 3 T milk, and beat until smooth. Continue adding milk and beating until desired consistency is reached (thick, but drizzle-able.)