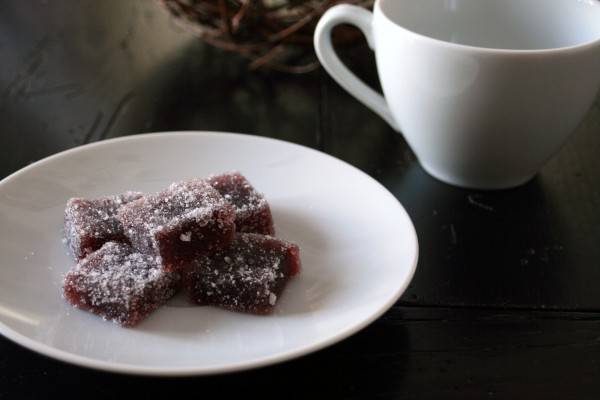 On the second day of Christmas, my true love gave to me: pâte de fruit! Or fruit jellies, as those of us who are not fancy-schmancy like to say. These jewel-toned beauties have a voluptuous, ripe flavor, and look lovely on a little plate at a party. I like to cut them small (1 inch square), so that no one thinks they're gussied up jello jigglers.
I've almost finished the case of pomegranate juice that the nice folks at POM wonderful sent me. Pomegranate juice has a rich, complex flavor that I just haven't found in other juices, and it complements the cherry in these little candies perfectly. However, you can use any 100% fruit juice and jam combination that sounds yummy to you.
And by the way, this recipe is easy peasy. You can make it late at night without turning on your rather loud stand mixer. (Which apparently, can wake my two-year-old from a dead sleep. I ran it the other night, and within 3 seconds I heard this on the baby monitor: "Mixer? Mama's making cookies!" Try getting a toddler back to sleep after that.)
Pomegranate Cherry Pâte de Fruit (adapted from December 2010 Everyday Food)
1 1/3 cups 100% pomegranate juice
4 packets unflavored powdered gelatin (1 oz)
2 1/2 cups sugar (1 cup set aside for coating, optional to use 1 cup sanding sugar)
2 cups black cherry jam
1) Pour 2/3 cup juice in a small bowl. Sprinkle on gelatin, and set aside.
2) In saucepan, bring remaining 2/3 cup juice to a boil along with 1 1/2 cups sugar. Stir until sugar dissolves, about five minutes.
3) Add jam, and whisk until smooth. Bring back to a boil, and cook (stirring) until thick, about two minutes.  Add gelatin mixture, and whisk until dissolved.
4) Pour through a fine-meshed sieve into a 9×13 pan. Chill for at least 3 hours, or until ready to serve.
5) Put 1 cup sugar into a shallow dish. Cut pâte de fruit into 1 inch square pieces, and coat in sugar.
**Important note**: if using regular granulated sugar, do not cut and coat until just before serving, as the sugar will melt. Sanding sugar will resist melting, so you do not have to be as quick to get these little beauties into somebody's mouth.