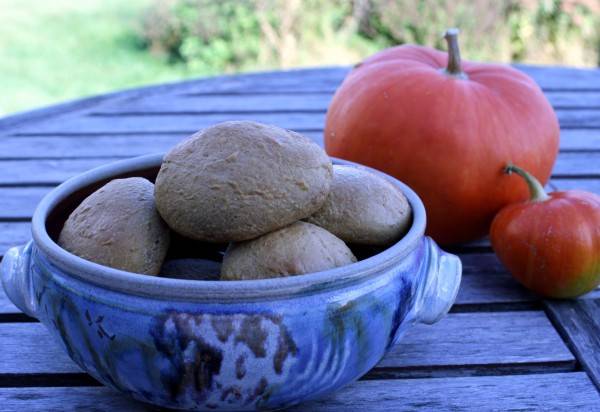 Soup season is here, and there is nothing lovelier than a bowl of hot, homemade soup–unless it is a bowl of soup with a hot, homemade roll. These pumpkin rolls are dense (in a good way, not in a heavy way), chewy, with a hint of sweetness and a pretty orange tinge. It is a splendid accompaniment to a hearty soup or stew. If you wanted them to be a little less hearty (and a little less healthy), you could replace some of the whole wheat flour with all-purpose.  Also, if you don't enjoy molasses, you could replace all or some of the molasses with additional maple syrup or honey.
I want to dispel the myth that yeasted breads and rolls are difficult to make (especially if you have a stand-mixer). They seem daunting, and you do have to account for rise-time, but if you have two hours before dinnertime, you can turn out a nicely baked bread or pizza crust with minimal effort. Perfect for Sunday night dinner. Just dump everything into a bowl, mix a bit, and let rise someplace cozy. Shape, bake, and your house will be smelling like heaven in 10 minutes.
Plus, have you ever read the ingredients for rolls or bread you buy at the store? The list is shockingly long! For something that is traditionally made with flour, water, yeast, it is amazing what companies put in there (mostly to increase shelf-life.)
Pumpkin Rolls
2 T active dry yeast
3 cups warm water
1/2 cup molasses
1/2 cup maple syrup
1 T oil
1/4 cup pumpkin puree
1 1/2 tsp salt
6 cups whole wheat flour
4 cups unbleached all-purpose flour
1) Add yeast and a dribble of the 1/2 cup of maple syrup to 3 cups warm water. Let sit for a few minutes until foamy.
2) In a mixing bowl, add molasses, maple syrup, oil, and pumpkin puree. Whisk or mix until combined. Dump in salt, flour, and yeast mixture. Either mix with a stand-mixer and dough hook for 2-6 minutes (depending upon how powerful your mixer is), or stir together with a wooden spoon and knead on flour countertop for a few minutes.
3) Put dough in oiled bowl, and cover with plastic wrap or heavy dishtowel. Let rise in warm, draft-free place for about an hour. I use my oven, and leave the light on. The dough is completely risen when you push it with your finger and the indentation stays.
4) Shape into desired size roll. Let rise on baking sheet, covered with a dishtowel, while the oven preheats to 375 degrees.
5) Bake for about 25 minutes. Makes two dozen medium sized rolls. Freeze what you don't finish the next day.