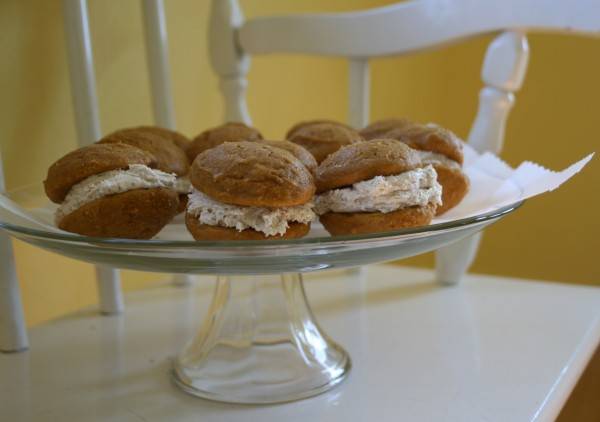 This is no trick – just one delicious treat that would be perfect anytime from Halloween to Thanksgiving.
The cake is simple, not-too-sweet pumpkin (the filling more than makes up for this in sugar content), and the filling – oh the filling. A gooey, sweet, pumpkin-spiced concoction with the sophisticated finish of nutty browned butter.
The filling can be made up to two days ahead and kept in the fridge. Let soften slightly before assembling pies.
Before we start with the main attraction, here's a quick recipe for making your own pumpkin pie spice. The fresh nutmeg totally makes it. (Just grate on a microplane or fine cheese grater.)
Pumpkin Pie Spice
1 T cinnamon
1 tsp ground ginger
1/4 tsp allspice
1/4 tsp ground cloves
1/4 tsp freshly grated nutmeg
Pumpkin Whoopie Pies with Browned Butter Filling
Cake (adapted from Everyday Food November 2011)
2 cups flour
2 tsp pumpkin pie spice
1 1/2 tsp baking powder
1/4 tsp salt
2 eggs
3/4 cup pumpkin puree
1 cup brown sugar, packed
1/3 cup unsalted butter, melted
3/4 cup heavy cream
In a medium bowl, whisk together flour, pumpkin pie spice, baking powder, and salt. In a large bowl, whisk together eggs, pumpkin puree, brown sugar, melted butter, and cream. Add dry ingredients to wet, and stir until mixed.
Preheat oven to 350 degrees. Drop approximately 2 T of batter (or use a small cookie scoop) onto a lined cookie sheet. You should get approximately 24 cookies (12 to a sheet), which will yield you a dozen whoopie pies. Bake for 12-15 minutes, until cakes spring back when you press them.  Cool completely on rack before filling or storing.
Browned Butter Filling
12 T butter
1 1/4 cups powdered sugar
1 tsp pumpkin pie spice
1/8 tsp salt
1 tsp vanilla extract
2 1/2 cups marshmallow fluff (please note, you need at least two standard sized jars)
Melt the butter over medium-low heat, stirring occasionally, until fragrant and golden-brown. This takes five to seven minutes. If you have an enameled cast iron saucepan, the light-colored lining allows you to easily monitor your brown-ness of your butter. Watch carefully, as butter can go from lovely to burnt in the blink of an eye.
Pour butter into a large bowl, and put in refrigerator until starting to solidify (but still soft). Alternatively, you can stick it into the fridge for awhile, and then let it soften back to room temperature. When butter is a soft, spreadable consistency, add powdered sugar and beat until very smooth. If your butter is too cold, you will get little pea-sized balls of butter and sugar. Keep beating! It will smooth out. Beat in the pumpkin pie spice, salt, and vanilla. Add fluff, and beat until completely incorporated. Taste some. Be happy. You will still have plenty to fill 12 pies. Chill for at least 30 minutes to firm up a bit.
Assemble pies: spread a generous layer of filling in between two pumpkin cakes. You can store assembled cakes in the fridge for at least a day, but I like them best when the cake is room temperature but the filling is still chilled and firm.