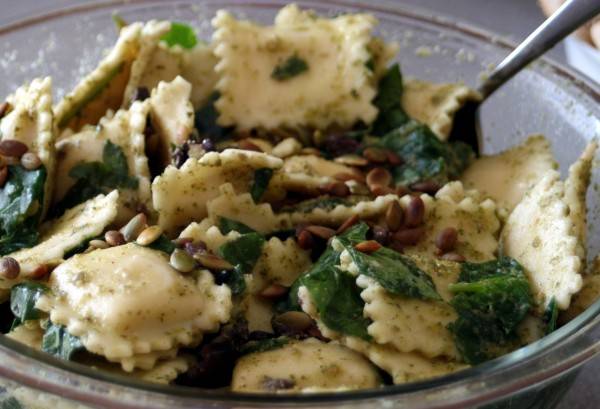 It has been far too long. Summer, traveling, work, family, a feeble attempt to work out from time to time and several good books have kept me from posting here. But I haven't stopped cooking (or photographing), so I do have some splendid things to share with you–including several preserving recipes. So if you have excess fruit, veggies, or tomatoes, stay tuned.
Here I give you an interesting spin on the common pasta salad. This is perfect for an end-of-summer potluck and is great if anyone is allergic to the tree nuts found in most pestos. It comes from Heidi Swanson at 101 Cookbooks. It is in her latest cookbook, Super Natural Every Day. I am really enjoying this cookbook – the photos are beautiful, the writing is interesting, and the recipes are wholesome, substantial, and innovative.
This is Heidi's original recipe, with only a few slight adaptations. I added in several large handfuls of chopped spinach when the ravioli was still warm, and I didn't have any thyme or chive flowers for a garnish. Also, the amounts below are for the standard recipe, but I found that there was plenty of pesto, and I doubled the amount of pasta to serve a larger crowd. If you go this route, you would want to add additional olives as well.
I liked this best the day it was made, before it was refrigerated. If you want to plan ahead, you could make the pesto before, and cook your pasta and mix the salad the day of serving.
Ravioli Salad
by Heidi Swanson, Super Natural Every Day
1/3 cup toasted pumpkin seeds*
1 cup lightly packed cilantro leaves and stems
1/3 cup freshly grated parmesan cheese
3 cloves of garlic, peeled
2 T fresh lemon juice
2/3 cup extra virgin olive oil
fine grain sea salt
16 oz fresh or frozen ravioli
1/2 cup oil-cured black olives, pitted and roughly chopped or torn
thyme and chive flowers, to garnish (optional)
1 large bunch fresh spinach, chopped (optional, my addition)
*I buy raw pumpkin seeds, and then put them in a dry skillet to toast over medium-low heat. Shake them around, watch them carefully – after a few minutes they will just start to brown and become fragrant. Take them off the heat right then!
1) Bring a large  pot of salted water to boil, and cook ravioli. This usually only takes a few minutes – when they float to the top, they are done. I used cheese ravioli, Swanson recommends red pepper and chard filling in her headnotes.
2) As the pasta cooks, get on with the pesto.  Combine most of the pumpkin seeds, cilantro, parmesan cheese, garlic, lemon juice, and a bit of the olive oil in a blender. Puree until smooth, drizzling in the remaining olive oil as you go. Taste and add salt if needed.
3) When the ravioli are done, drain and toss with a generous spoonful of the pesto while it is still warm, and the chopped spinach if you are using. Allow this to soak in for a few minutes, then add an additional 1/2 cup of pesto and almost all of the olives. Toss gently, and then decide if you want to add more pesto. I used all of it, but I also used 32 oz of ravioli.
4) Put in serving dish, then sprinkle remaining olives and pumpkin seeds on top, and any garnish. Serve warm or at room temperature. Easy, elegant, and yummy.